The International Federation of Pastry, Ice Cream and Chocolate (FIPGC) has opened the call for "The Best Panettone in the World", a competition that will take place on November 16 and 17 in Rome and that has three categories: Best Classic Panettone in the World, Best Stuffed Panettone in the World, and Best Decorated Panettone in the World.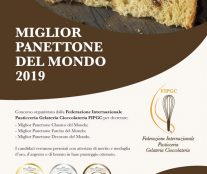 The pastry chefs, ice cream makers, and chocolatiers who are interested in participating should send their application before September 30 and will have the possibility to participate in two of the three categories of the competition. In the case of the classic and filled panettone, applicants have to present four equal panettones, each weighing 1 kg, which will be evaluated based on aroma, baking, taste, softness, and sponginess. While the candidates for the decorated panettone category will have to prepare a single piece in any theme, with unpublished decorations that have not appeared in other events or competitions, and with a tray diameter that does not exceed 40 cm. The jury will assess the appearance and difficulty of the techniques used.
Candidates will receive a certificate of merit and a gold medal (score of 91 to 100), silver (score of 81 to 90), and bronze (score of 71 to 80).