Pastry chefs, ice cream makers, chocolatiers, and cake designers from all over the world can participate in the Best Panettone of the World 2020 competition, organized by the International Federation of Pastry, Ice Cream and Chocolate (FIPGC), to be held on October 24 and 25 at Cinecittà World in Rome.

Candidates, who must register by September 30, will be able to compete in one of the three categories established by the competition: classic panettone (candied fruit, raisins, and citron), innovative panettone, and decorated panettone. In the case of the classic and the innovative panettones, the applicants have to present two equal ready-made pieces, each weighing 1 kg, which will be evaluated based on aroma, cut, preparation, aroma, fluffiness, and texture. While in the decorated panettone section, a ready-made unit must be exhibited with a tray diameter that does not exceed 40 cm and with original decorations that have not appeared in other events or competitions. The jury will assess the appearance, the difficulty of the techniques used, and clean work.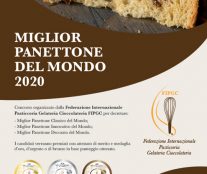 The top three contestants in each category will receive a certificate of merit and a medal based on points: gold (91-100 points); silver (81-90 points), and bronze (71-80 points).

In the previous and first edition of this competition the participation was varied and high. A total of 165 panettones were presented by participants from all over the world, from China to France, from Spain to Saudi Arabia. The winners were Bruno Andreoletti (Brescia) and Gianluca Cecere (Marano di Napoli) in Best Classic Panettone; Maria Spadola in Best Innovative Panettone; and Pasticceria Le Palme – Donatone Amedeo Work done by Rossella Tamburri in Best Decorated  Panettone.