Winner of the sugar showpiece competition on the very first day Sigep was inaugurated, The Star of Sugar, Davide Malizia showed once again yesterday that he is at his best after leading the Italian team straight to victory during the Junior Pastry World Cup.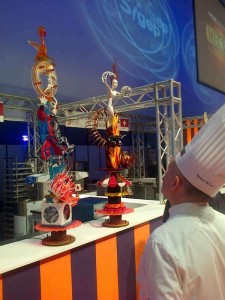 Deeply moved, he mounted the winners' podium alongside his tutees, Davide Verga and Gianluca Forino, to receive the first prize. This way, Italy monopolizes the winning positions of this competition, winning its first edition with authority. The Italian team also showed great regularity in the works they submitted after winning in categories like best chocolate showpiece and best sugar showpiece, as well as in the three types of bonbons and in the category of logs.
Japan made sure of a hard-fought second position, facing the unstoppable progress of emerging Asian countries like Singapore, Taiwan and South Korea. Japan followed the rather classic esthetic canons of competitions like Lyon's World Cup for their showpieces, whereas Singapore presented a more creative interpretation of the competition theme, The Circus of The Future, and won in categories like gelato sticks, desserts in verrine and best frozen coffee.