Like so many competitions, The Championnat de France du Dessert has been forced to delay its national final this year. Initially scheduled for the month of April, it will finally take place on October 6 and 7 at the Lycée hôtelier Georges Baptiste in Canteleu-Rouen (France).

Organized by Cultures Sucre (formerly called CEDUS, an association that looks after the interests of the sugar sector in the French country), this competition aims to highlight restaurant desserts. In this 46th edition, chaired by Christophe Adam, the winners of the regional qualifiers held before the pandemic will participate. All of them will have 4 hours and 50 minutes to prepare two plated desserts for ten people, one of them freely selectable and the other with a figure imposed by Adam.

For the creator of l'Éclair de Génie, "dessert is increasingly a moment to share". For this reason, he recommends that the contestants "take this into account in the design of their dessert, both in the way they taste it and possibly share it. Of course, the dessert must be nice, good, light, reasonably sweet, easy to taste, respectful to the seasons, and above all, without taking itself seriously ".

On Tuesday, October 6, the juniors final (students and apprentices, maximum 25 years of age, from high schools and CFA) will take place. The seven applicants are:

Paolo Navarro from the Lycée Hôtelier La Rochelle
Julian Lalevée from CFA Jean-Baptiste Chardin de Gérardmer
Gauthier Caloin from GRETA de la Côte d'Opale Le Touquet-Paris-Plage
Maxime Chollet from the Lycée Hôtelier de Blois
Lou Levasseur of the Lycée Hôtelier de Chamalières
Léa Missud from the CCI Sud Formation-CFA Nîmes Marguerittes
Zachary Lebel from CFA Médéric Paris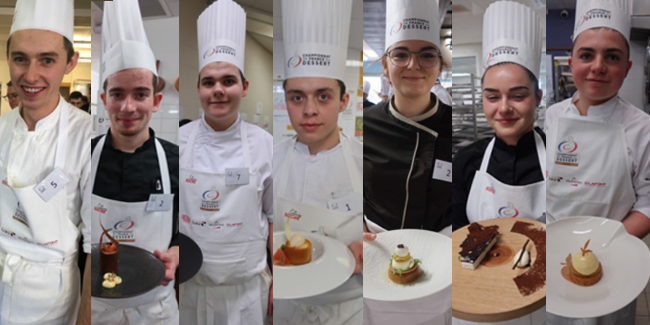 On Wednesday, October 7 it will be the turn of the professionals (pastry chefs and cooks who work in France, as well as French chefs working outside their country). In this case, the eight candidates are:

Simon Pacary from La Table de Franck Putelat restaurant in Carcassonne
Jérôme Bellegueille from the restaurant of L'Hôtel Le Grand Monarque in Chartres
Christophe Loeffel from Le Pont de Brent restaurant in Brent (Switzerland)
Morgane Raimbaud from Alliance restaurant in Paris
Antoine Le Nôtre from the restaurant L'Agapa in Perros-Guirec
Sébastien Paris from Les Morainières à Jongieux restaurant
Laëtitia Meknassi from La Chèvre d'Or restaurant in Eze Village
Anthony Chenoz from Lucas Carton restaurant in Paris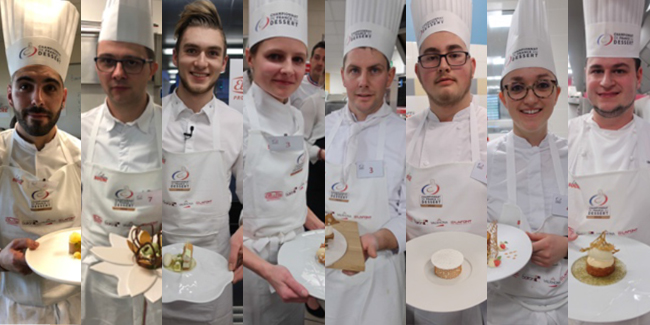 For the next edition, the competition wants to go back to its usual calendar, so the regional rounds will take place between this month of October and December and the final is scheduled for April 7 and 8, 2021.