Working with the legendary Parisian ice cream shop Raimo, La Pâtisserie des Rêves proposes an ice cream version of one of his emblematic products, the millefeuille.
But in this ice cream version is not just substituting the vanilla cream for vanilla ice cream; the great Philippe Conticini has thought about a new "parfums" collection within the millefeuille: dark chocolate, raspberry, Alphonso mango, hazelnut, and vanilla. It is a way of rediscovering a refreshing form of this elaboration in Raimo for spring and summer.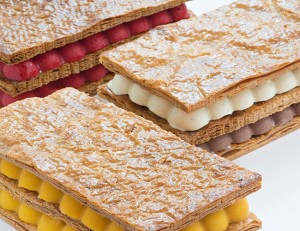 The pairing of Raimo's ice creams with des Rêves's caramelized millefeuille dough, which melts in your mouth, could not be lovelier. Three layers of puff pastry and two ice cream layers turn this new specialty into an interesting ice cream dessert to take home.
Meant to be eaten with family (a six-person millefeuille), the ice cream millefeuille will be available at La Pâtisserie des Rêves from May 14.