He has become recognized since he has been running this 'pastry of dreams' with a quest to regain the enthusiasm and intensity that children experience when tasting sweets. He has no problems using products and ingredients from distant cultures, other references used to surprise and excite his customers through a genuinely personal language. No doubt that as a professional and creative baker, he has reached a level of maturity that is expressed both in the roundness of his products and in the discourse that supports them. It is a clear and seamless discourse emphasizing, for example, an evolution brought about by education over the years. When mentioning the generation of young professionals who are preparing to be the future of the sector, he warns them that 'a young apprentice must understand every gesture, every technique and every reaction' on what they create so that, he said, 'the teaspoon is the most essential tool of their work as an apprentice'.
We let ourselves be imbued by the Pâtisserie des Rêves universe, by the still innovative interior design in the shops, designed by Thierry Theisser himself, and where that exhibition plays an important role when it comes to enhancing each dessert, turning them into irresistible jewels to the helpless clients observing them. His endless sets of new creations does not cease every season, a varied cast of cakes together with pastries, cookies and travel cakes develop as seasonal flavors and sharing the limelight with the stars of the place, the tatin, the Saint Honoré or the Paris Brest, which we reproduce in these pages in great detail. Among the latest innovations include the revision of these classics in a Japanese style, as a nod to the latest openings on Japanese soil that La Pâtisserie des Rêves has achieved in Osaka and Kyoto.
What are the key stages of your career?
1986 Expression. My brother and I ran the restaurant 'La Table d'Anvers' (one Michelin star and 17/20 in the Gault Millau). I understand that taste is my language and that patisserie is my means of expression so I express my personality through my desserts. 1994 Sensations, is the year that I invented in-verrine desserts whose uniqueness lies in overlapping layers. This overlap of the different components and flavors allows an aesthetic execution different from traditional plating, as this allows me to precisely control the order of diners' tasting. I understand that I can design the sensations of my diners and convey my own understanding of the flavors. 2001 Emotions, as creative director for the Petrossian restaurant in Paris (one Michelin star and 17/20 in Gault Millau in only one year) and New York, and consultant for Peltier in Japan, I understand that I can touch people of all cultures and nationalities through my creations and provide the same emotional and gustatory pleasure that comes from their childhood memories. Thanks to the principle of 'little madeleine', I realize that I can excite the taste buds, regardless of their eating habits and their social and cultural context.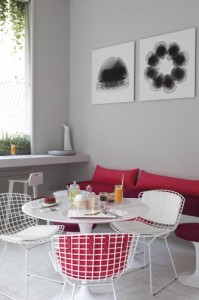 Does each of these stages deny the previous ones? Are they incompatible?
These three phases are not incompatible with each other; on the contrary, they are progressive: each becomes a part of my path to maturity.
Dreams and childhood seem to be very important in your patisserie, to what extent exactly?
I love feeling emotionally touched by the cakes I eat. I love to reconnect with the pleasures I had when I first tasted a choux à la crème or any other sweets from when I was little. All my work on flavor is built to reconnect with the same level of pleasure as when we were children.
We know that people like Angelo Musa have played an important role in the team work within the workshop, who is currently part of the team?
Angelo Musa is no longer part of the team because he has undertaken a personal, independent project. With regard to the team, I motivate them to do daily work in regards to flavors and my creations, although Patrick Gazet is the production chef responsible for managing it day-to-day.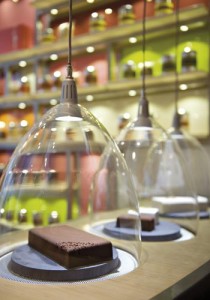 How would you assess the four years after the opening? What has changed from the first day until now?
The cakes in Pâtisserie des Rêves are constantly evolving and each year I create new references, respecting the pattern set by Thierry Teyssier, that is to say, revisited classics. Sometimes I create some 'free figures', cakes which are a little more original. Evolution is permanent.
What would be your main piece of advice to a young apprentice interested in achieving excellence in this profession?
For me, a young apprentice must concentrate on understanding every gesture, every technique and every reaction. He or she must constantly consider the issues that enable them to understand what they are learning. They must open their soul, work with passion and precision as their knowledge progresses and, above all, constantly taste everything that they develop: hazelnut powder, a cake, butter cream, syrup… they need to taste everything. In summary, the teaspoon is the most important tool of a young apprentice!
Find the detailed recipes of 'Paris Brest' and 'Mango-Pineapple Tart' in so good.. magazine #10.