Dishes Photos by Mike Hoftstter
As we can see in so good #23, German chef of Italian descent Marco d'Andrea advocates for the perfect mix. In his designs of dishes in the new and superb Hotel Fontenay in Hamburg, he arranges his creations in the form of a circle, in such a way that it invites the client to mix all of the elements that are plated on the dish and enjoy the contrast of flavors, textures and temperatures in a simultaneous, unprecedented and memorable experience. Although he is committed to intense, fatty, sweet or savory ingredients and flavors, he acknowledges that there is nowhere like a gastronomic restaurant to unleash such creative freedom, nurture interaction with the kitchen equipment and sommeliers and stimulate the senses of the diner. Its objective is to achieve 'implementation of a higher emotional depth'.
Although it is in the Lakeside restaurant in the hotel where he can better expand this openly experimental philosophy, he also takes it to other areas of the hotel such as the Afternoon Tea service. His professional maturity is evident, and so is his time at the Vendome by Andy Vorbusch (so good #12), but also the quest for his own style that has already achieved different national recognition, such as the Patissier of the year 2019.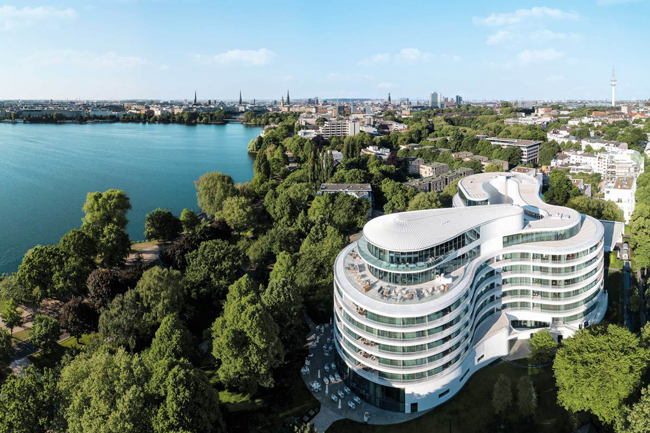 How would you define your creative philosophy?
Regarding the creativity process, I use the classic mind mapping in order to find new ideas. In general, I choose a main ingredient and three further ingredients maximum. In my opinion, you only get the perfect and harmoniously mixture by using different components; many single components do not taste without being combined.
I love to play with the different textures of the single ingredients. Moreover, it is important to me that all components of the dessert fit on one spoon, in order to taste them at once.
Regarding the production philosophy: I use high quality products from all over the world, I do not use vegetables or savory components. For me, it has to be sweet, chocolate, fatty and salty. My preparation methods are modern, complex and profound. Sometimes it takes me weeks to develop a new creation.
What cultural influences can we note in your creations? Do you use your Italian ancestry somehow?
I am pretty sure that I have a lot of Italian spirit inside me. I have been raised with good food, so tasting is easy for me and I love the emotions inside the Italian cuisine. At the same time, the French pastry is above all for me. And I am always trying to include a little piece of the French pastry inside my creations.
It is important to me that all components of the dessert fit on one spoon, in order to taste them at once.
What local or international chefs have influence your philosophy the most?
I have been able to gain a lot of expertise with Andy Vorbusch at the restaurant Vendôme. And I have teached myself the rest. Since four or five years, I have developed my own style – you can distinguish it from other chef's style.
Would you say that in Germany the interest of young people in restaurant patisserie has increased? And what about pastry shops?
I agree: the young pastry chefs in Germany are becoming more and more famous, also because of social media. The young ambitious people are creative and try out new ideas.
On the other hand, the profession of confectioners and bakers are in danger. There are less and less small handcraft businesses, celebrating the traditional business. Instead there are more and more chains, working only with machines. Our confectioneries in Germany cannot be compared with the French ones and are not that estimated by the people.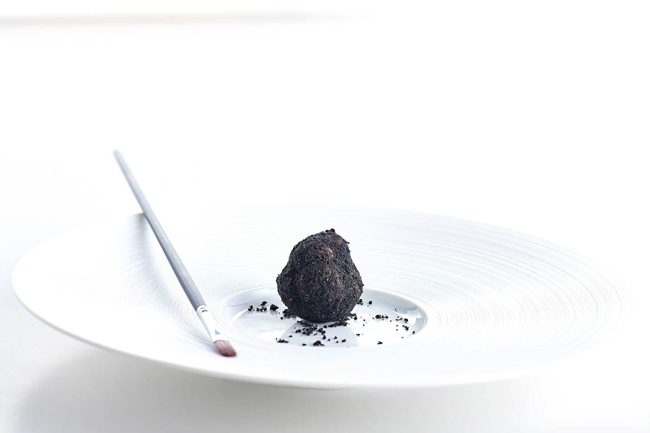 So what differences would you highlight between pastry in a restaurant and hotel and pastry in a shop?
I think the Germans are focussing on the restaurant pastry. They are seeking for the experience in a restaurant and are feeling a greater emotion beeing in a restaurant together with friends. In France, Italy or Spain people are enjoying pastry in a shop or boutique. It is a bit like a tradition so bring some sweets to family and Friends.
Do you think it is easier to experience textures, flavors, combinations or formats in a fine dining restaurant?
Yes, I do. The product range is much wider in a gourmet restaurant, you can work together with the kitchen team, sommeliers and the service concerning the guest's needs. Moreover, you can be more courageous in regard to the flavors and be more experimental.
The desserts at a gourmet restaurant are different and more exciting with the presentation, the wine pairing and how guests eat the dish. You can implement a higher emotional depth.
The desserts at a gourmet restaurant are different and more exciting with the presentation, the wine pairing and how guests eat the dish. You can implement a higher emotional depth.
Would you recommend other chefs to participate in pastry competitions? Are you happy with your experience in the "pastry arena"?
Yes, I would definitely recommend this to my team and to other chefs. You can compare yourself to other colleagues, you learn a lot for example concerning the time factor, other cultures and peole, working under pressure, new techniques. And you make up your mind for more creative ideas for a competition.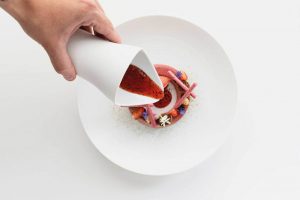 Your restaurant and hotel are opened only a few time ago, what recognition and popularity would you wish its proposals can achieve in the future?
The Fontenay is for me one of the most beautiful hotels. I think we still have lot of potential regarding the pastry, that we are aiming to achieve every day. The feedback is great and I am proud of my unique concept for a tea time.
What technique or style features would you highlight from your creations?
In general, I arrange my creations in a ring. This is a concept, which we have established for three years now. By using this way of arranging the dish, you can set all textures on a foundation. So, the guest is forced to eat everything in a mélange. What else is important to me in my creations: They can be sweet, salty, acid, bitter and umami. They should be satisfying and fruity, to provoke an optical "wow" and to leave something that remains in mind. Different temperatures and textures have to be in balance as well.
Discover these creations by Marco d'Andrea in sogood #23