Not only is Leonardo Di Carlo a creative chef with a very personal style, he is also a scholar of pastry, of his job, of his passion. What moves him is his focus on understanding the processes and reactions which occur within a cream or dough. Trying and trying again, because as he rightly says: 'The only people who never fail are those who never dare!'
We at so good.. magazine are interested in an ingredient that he uses regularly in the recipes of some of his doughs, which is extra virgin olive oil. He shares his thoughts and the results of his research with us, 'these doughs are lighter and softer, and also suitable for those who are lactose intolerant.'
At a time when many consumers have declared war on fat, what can patisserie do?
It's an epic moment of great challenges for patisserie. It's true that the tendency is to reduce fat where possible, and always if it makes sense. For example, today it is possible to produce light butter cream with 33.5% fat, whereas traditional butter creams are between 45% and 50% (example 1). It is around 15% less fat, without losing the quality of taste.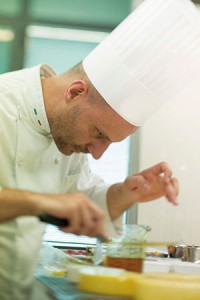 What does olive oil or butter add to the composition of a dough or a cream?
The main difference between using one or the other is softness in the case of sponge cakes. Once cooled, an olive oil sponge cake will be much smoother than one made with butter. The reason lies in the composition of fatty acids. An extra virgin olive oil has a melting point below that of butter, 5/7°C compared to 29/32°C, respectively. Therefore the result is a lighter, smoother dough (example 2). It is also true that a cake-type product made with olive oil, over time, will be drier than if you use butter. In short, there is no need to substitute one for the other. It is better to use both depending on the needs of the moment and of each product.
What differences are there in terms of taste? And which one is healthier?
Of course everything depends on the quality of the chosen fat. As we all know, there are good aromatic, creamy, non-acidic butters. And what can we say of olive oil.
An advantage of using olive oil as a value-added bakery product, is that it is free of lactose, so it can be consumed by people with intolerance to dairy products (example 3).
Once cooled, an olive oil sponge cake will be much smoother than one
made with butter
Is olive oil the great unknown among professionals in pastry?
It was definitely used a lot more in home baking in the past. My grandmother Maria made all her cakes at home with olive oil. What a wonderful memory. The problem is that most pastry chefs believe that olive oil is an ingredient for frying and not an element for the preparation of pastry.
Your best cake uses olive oil or butter?
I'll stick with my grandmother Maria's 'frollino', revisited of course, because in her time ingredients weren't thoroughly weighed nor were the proportions of fat and sweetness completely known as they are now (example 4).
Olive oil was definitely used a lot more in home baking in the past. My grandmother Maria made all  her cakes at home with olive oil
From a technical point of view, how do we replace butter for extra virgin olive oil in a recipe?
First of all, it is essential to know the amount of total fat content of both ingredients: butter, 82% fat; extra virgin olive oil, 99.9% fat (example 5 and 6).
The amount of butter in this recipe is 244 g. Since butter contains 82% total fat, 16% water and 2% of other solids, the calculation is as follows:
39 (total water contained in butter) – 244 = 204 (total fat content of the butter and therefore the same amount of olive oil that should be added to the recipe. And we must also add the missing water in the recipe because oil does not contain water).
76 g (amount of water in the recipe) + 39 (water contained in butter) = 115 (the total amount of water to be added to the recipe).
This calculation can be applied to all products when we want to replace butter with olive oil. Of course, there are preparations where it is not possible to replace all the butter, like shortbread, pandoro or panettone, although we can replace a small part.
We need to keep in mind that in the case of pasta frolla or shortcrust pastry, the work method changes by first making the egg and oil 'mayonnaise', then adding sugar and finally flour.
Finally, I believe in patisserie and other activities we need to experiment to improve. The only people who never fail are those who never dare!

EXAMPLE 1
Light butter cream
1250 g Swiss meringue
850 g butter, 82% fat
500 g cream, 35% fat
3 g vanilla bean
EXAMPLE 2
Light yogurt and olive oil sponge cake
250 g whole egg
250 g superfine sugar
8 g lemon zest
65 g invert sugar
1 g fine salt
100 g yogurt
150 g flour
100 g almond powder
6 g baking powder
120 g extra virgin olive oil (soft and delicate)
Combine the first four ingredients and beat in the bowl of a mixer until pale on medium speed. Beat in the yogurt, the powdered ingredients (previously sifted together) and finally the olive oil. Bake at 190ºC for 8 to 10 minutes, vent closed.
EXAMPLE 3
Olive oil pâte à choux
EXAMPLE 4
Granny Maria's 'frollino'
EXAMPLE 5 and 6
Sacher sponge with butter
Butter-free Sacher sponge