How did you get to chocolate and pastry?
Mi first contact with chocolate was at the very time I was born. I come from a chocolatier family (…) I got to pastry when I did a stage at Aula Chocovic (currently Spain's Chocolate Academy) under the direction of my professor and friend Ramon Morató (…) For this reason I can say that I'm a master chocolatier who bases his work on tradition and receives nourishment and inspiration from other sources to end up giving shape to the most innovative, avant-garde concepts which can ever be created.
Which are your main influences and references?
The persons who have influenced me the most are my grandmother Consuelo, Joaquim Capdevila and Ramon Morató. I can't forget mentioning that my passion for music, architecture and politics has highly contributed to the development of my creations.
Why are the chocolate figures one of the pillars of your work?
Through working with classic geometric figures, I create symbolic interpretations of reality which can range from love to something as classic as a Christmas tree. My goal is to reach a harmonic balance between elements like space, light and different textures (…) I consider it is vitally important to have a clear style in all the creations I make, carefully conceived with the hallmark of neat, simple and sober work. I particularly like using a spray gun to give a velvet effect.
What is your opinion on the current level of chocolate and pastry in Mexico and what future do you think is awaiting it?
I consider that their current level is in visible evolution. It is a fact that Mexico has benefited from the international gastronomic boom; for example, there is a greater offer of gourmand products, the preferences of the consumers have expanded and the sector has specialized, but this isn't still enough. In my opinion, we should promote a greater consumption of chocolate within the country, and make people aware of the great benefits it brings. In the same way, it is essential to inform people so that they can appreciate and tell the difference between a top-quality product and a regular one and then they will be prepared to pay more for it.
However, this is a hard task. We, as professionals of this field, should be committed to keep working in favor of the excellence, innovation and quality in our products. The seed has been planted!
What are you up to lately?
I'm currently working on a 1.80-cm-high chocolate model of the Bank of China, alongside the architect Juan Pablo Serrano (www.serranomonjaraz.com). And for Xcanda Chocolates, I'm working on the project of the upcoming opening of a first store in Mexico.
Good luck and welcome to So Good..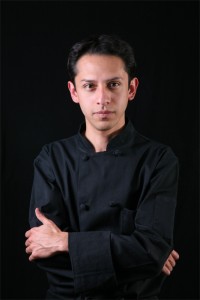 Juan Pablo Cortés Follow @J_PabloCS

Mexico, music, architecture and politics
Taller XCanda Chocolates
The next issue of So Good.. magazine is now in the closing stages regarding its contents. At this point, we would like to introduce you one of its main characters, especially identified with chocolate and Mexico. Juan Pablo Cortés stands out thanks to his fine work in the world of cold pastry, chocolate and, above all, the creation of artistic pieces with a great architectural, conceptual background.