Founded more than 90 years ago and with fifteen thousand active members, the American Culinary Federation is the oldest and largest chefs organization in the United States, with chapters in the Caribbean, Asia, and South America.
The ACF offers certifications from fundamental cooks to master chefs, the only certifications recognized by the U.S department of Labor. They work together with other international federations like the World Association of Chefs Societies (WACS) where members come from different backgrounds, from corporate chefs, culinary instructors, research chefs, hospital chefs, military chefs, pastry chefs, culinary students, and overall everyone who is interested in the food industry.
Every year, the ACF gathers its members by holding two regional conventions and one annual convention. This year the National Convention was in Orlando, Florida, and one of the guest speakers was Pastry Legend, Jacquy Pfeiffer.
With over 40 years of experience in the pastry world, chef Jacquy Pfeiffer began his career in 1976, working and travelling around the world, which helped him learn and create the prestigious French Pastry School in Chicago.
He founded The French Pastry School in Chicago 24 years ago, and over the years the school has built a flawless reputation. Today over one hundred and twenty thousand students have graduated from the different pastry programs that the school offers.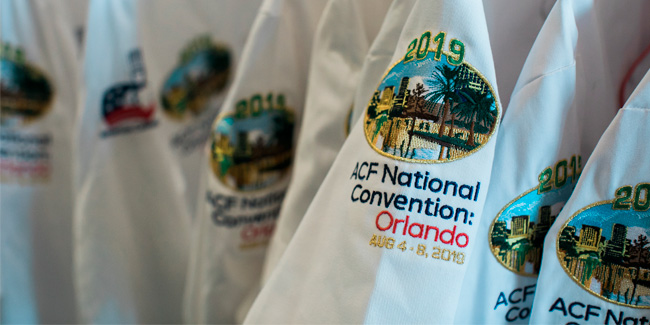 Jacquy Pfeiffer: "The Future of pastry"
Tomorrow's customers are smarter about their food choices. They continue to be more educated, they read more about food, and they cook more at home. We have reached a point where good is not good enough anymore, customers want more, much more.
Customers want different, fresh, healthier options when they go to a pastry shop. They want to feel included. If you don't provide them with choices, they will go elsewhere.
Customers feel comfortable when food is prepared in front of them. They would rather buy baked items that are made fresh daily, fresher options with less fat, less sugar, less preservatives, and less chemicals. People are more aware of their health and are looking for healthier options, less processed food, more gluten free, dairy free, and vegan options which will never go away. These customers are here to stay, more and more people want these options not only because of health issues but also as a way to a healthier way of life.
Customers want value for their money. People don't want to pay for a pastry that is overpriced, be honest with your prices. When you charge fairly you get more customers in the end because customers will come back.
Build your business by creating marketing strategies, 50% of your business success is how you build a story behind the product, building romance around it is very important for today's customers who want something  artisanal, something handcrafted, for there to be a story or history behind the product. Use local flavors but don't use only local products, just some products. People love to help the community. Offer them experiences, give them something to make them feel special. Customers like to be wowed, they want a personal touch, so they can talk about it with their friends.
Quality, always quality. This is by far one of the top things to consider when you sell a product, average-tasting products will not be acceptable any longer, try new flavor combinations and interesting textures. Make sure that the ingredients that you use are the best possible ingredients, without going to the extreme. Better taste means great taste! Tradition but also evolution comes into place for the future of pastries. People love traditional products, but they also love when traditional pastries are revamped without compromising the flavors and quality.
The world is moving fast, we have to give our customers digital solutions: online ordering, ultra-fast delivery, and only multiple menu choices. Find ways to make customers order online, people don't want to wait, they want ultimate convenience, custom-made food, and last-minute delivery.
More and more people are looking for environmentally friendly options: recycling, no more straws, using environmentally friendly packaging, zero waste, and less of a carbon footprint.