Oberweis (so good #12) surrenders itself once again to raspberry, which is poised to become one of their favorite fruit in ice cream cakes. One of the latest releases of the Oberweis brothers, Jeff and Tom, returns to focus on this red fruit with the new creation, Coup de Coeur. With it, Oberweis introduces its third ice cream cake starring raspberry in just over two years and joins the Chocolate and Raspberry Cake and the exceptional Frambois'in in 2015.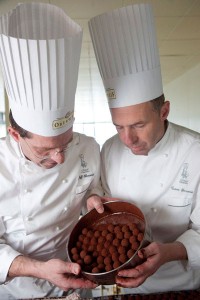 Coup de Coeur is a delicate variation of the Chocolate and Raspberry ice cream cake made two years ago which incorporated Oberweis's typical decorating style, hemispheres of chocolate ice cream and raspberry comfit on a puffed rice base with dark chocolate. Coup de Coeur has the same composition as well as a raspberry parfait, which is to replace the ice cream mousse of the Chocolate and Raspberry cake.
Frambois'in is also built on a base of puffed rice, a croucant which in this case is enriched with almond praline, white chocolate and dehydrated raspberry pailletes. It also comes with a Frambois'in ice cream (raspberry and white chocolate), vanilla ice cream and raspberry sorbet.
It has been eight years since Jeff and Tom Oberweis began working with ice cream cake, with the idea of ​​"revisiting and modernizing our entremets glacés ". In its evolution, the ice cream cake has come to also replace pastry classics like vacherin and the norvégienne omelette, which became frozen versions. They admit that from the start, there is no doubt that they have increased and invigorated "our total sales."
The oval shape is one of the hallmarks of this Luxembourg patisserie. Their ice cream cakes come in this format as a seal of guarantee. As they explained, "before, you had to wait a while to thaw our fantasies and ice cream bombs." Now, however, thanks to the more compact presentation format, the ice cream cake as a whole reaches the perfect temperature for tasting more evenly. In addition, the various components are now assembled in the tasting and the customer can better appreciate the contrast of textures.