Few professionals can boast such a long and prolific career as Gilles Renusson's. He learned alongside the greatest masters of French pastry in such historic maisons as Fauchon or Dalloyau, among others. He was captain of the American team in the Coupe du Monde de la Pâtisserie in 1991, and later president in numerous editions. He was invited by Kellogg's to create baked prototypes. He holds the medal that accredits him as Chevalier du Ordre du Mérite Agricole (Order of Agricultural Merit) of the French Republic.

He is now retiring as a professor for the Secchia Institute for Culinary Arts at Grand Rapids Community College (Michigan) after spending almost 30 years teaching how everything he has learned in a career in which he never stopped being an apprentice. "I do not plan on ever totally distancing myself from a profession which has brought me so many wonderful experiences and memories," he comments.

Those of us who have been lucky enough to meet Gilles Renusson at some point know that his professional skills are equal to other virtues which are no less important, such as his affability, his good humor, his permanent smile, and his generosity. As a great friend of so good..magazine from our inception, we could not miss out on the opportunity to interview him.
"Fine, delicate, artisanal pastries are still not available over the entire country"
Your beginnings in the pastry industry were not by vocation or family inheritance, but rather your parents "pushed you", right?
At the age of fourteen I was not doing as well as I should have been at school. At the end of the spring trimester, I brought home a report card that was less than flattering. I had a terrible grade in French spelling and grammar. Upon reading this card mom asked me to wait until after dinner to show it to my dad, so we, my parents and seven siblings, could enjoy a peaceful dinner. After dinner Mom asked me if I had anything to show my dad. Upon reading these poor grades, dad suggested that if I did not improve the following year, I would be going to boarding school. Mom did not miss a beat. She just gently asked: "Which boarding school would you like to attend?" She did not waste any time. The party was over and I was going to straighten up quickly. I never regretted this decision. Gone were the runs in the woods after class. From now on I had to focus on learning, period.
What do you remember from your time in Fauchon or Dalloyau?
Class! Working at any of these pastry shops was the dream of many young aspiring pastry chefs. These two establishments were, with Lenôtre and Peltier, recognized as the most prestigious pastry shops in Paris.
I worked at Fauchon first, then at the Connaught Hotel in London, and upon my return to France, I joined the staff of Dalloyau Gavillon (as it was called in 1979).
I remember my first day at Fauchon when Mr. Claude Bonté M.O.F., Chef pâtissier (the title of Executive Pastry Chef did not exist yet), welcomed me in the boutique on Place de la Madeleine and guided me down the narrow winding steel stairs, to the bakeshop. I felt as if I had stepped into an open book. I was not intimidated because I was already used to the discipline and rigor of a year spent in a paratrooper regiment, and the precision and organization of the pastry shop of Maxim's at Charles de Gaulle airport, but this experience was totally new. This was a much larger operation with approximately 18 pastry cooks. It was very exciting and marvelous. In each one of the four vaulted caves, everyone was silently laboring to produce perfection. Everything seemed so serious, one person would go through a door and instantly another one stepped out, as if they were trains on tracks. It was like a highly synchronized ballet. I realized that these pastry chefs were rushing to fill-up the display case, and was glad to feel the tension diminish when the mise en place and production started.
At Fauchon I was fortunate enough to work with M.O.F.s, three of them in one operation. The Executive Chef was Claude Bonté M.O.F., Serge Breda M.O.F. was running the "entremets" section and was Chef Bonté's assistant, and Michel Foussard M.O.F. who assisted Chef Serge Breda with the entremets.
There was a wealth of knowledge. Every member of the staff was motivated to be the best they could be. We were all making a serious sacrifice to learn from these experts. We came from all corners of the country, and we few stagiaires came from the U.S. and Ireland. The "Chefs de Partie" were seasoned craftsmen who had twenty or more years of experience. They were Mr. Bonté's trusted leaders.
One day Serge Breda M.O.F., had a special order and needed to pull some sugar. I asked if I could stay and learn from him. He welcomed my curiosity and I started pulling with him. I had already learned how to pull sugar at Maxim's with pastry Chef Alain Tricou. I could not believe how easy it was to pull sugar with Chef Breda's recipe. He was using a thermometer to precisely measure the degree of cooking of the sugar. At Maxim's I had learned to check the temperature of cooking of sugar "Sous la dent" by picking a small mass of sugar with my bare hand after plunging it in iced water. And every time I would pull sugar, I would get blisters on my fingers. It was painful and I always needed to wait a few days for the fingers to heal before I could pull sugar again.
'I had learn to check the temperature of cooking of sugar "Sous la dent" by picking a small mass of sugar with my bare hand after plunging it in iced water. And every time I would pull sugar, I would get blisters on my fingers. It was painful and I always needed to wait a few days for the fingers to heal before I could pull sugar again'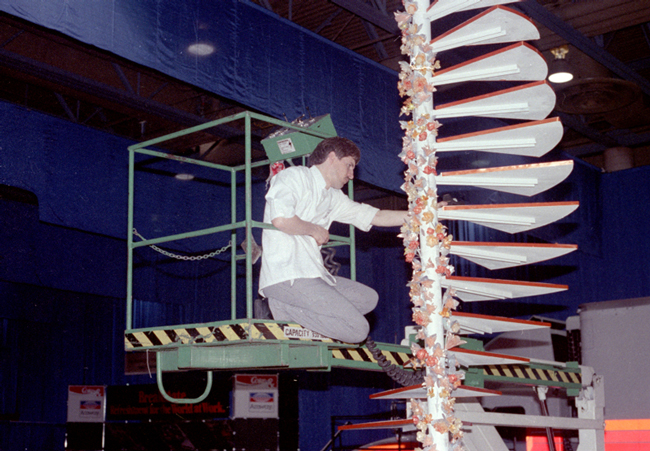 A few weeks later he encouraged me to train to compete in the Arpajon Culinary Salon, one of the classics that had catapulted so many young pastry chefs to higher recognitions. I spent every spare time, including weekends, in the bakeshop to design, practice and build a centerpiece, petits-fours and entremet under the watchful eyes, and with the guidance of Chefs Bonté M.O.F., Breda M.O.F., and Foussard M.O.F.
I won this competition. It was my very first competition, I was green, but I was determined and had the best coaches.
The next morning, I arrived early in the bakeshop, at the same time as Serge Breda who was always the first one at work. He congratulated me on my performance and bluntly asked me: "Do you know why you won yesterday?" I replied that I had worked hard and sacrificed every spare moment to prepare for it, and thanked him for his support and guidance. "No," he said. "The reason why you won is because the better person was not competing yesterday! And now go back to the tour (the bench) and make sure you make the best products because decoration and competitions will not sustain you!" This was a harsh comment, but it made a lot of sense. A competition is just a moment in time. It is the honor of a few lucky privilege chefs who have time, no other responsibilities, and a great support team. I never forgot to share this anecdote with my students. Become a generalist who can be efficient in most aspect of our profession, then laser focus on one skill which you want to perfect. Work hard, have fun, take chances, and never forget to say thank you and to remain modest and humble.
I owe a big debt of gratitude to Chef Bonté M.O.F., Breda M.O.F., and Foussard M.O.F. They made me believe that if I practice, practice, and practice again I could successfully accomplish anything I set my mind to do.
After Fauchon I went to work at the Connaught Hotel in London. Upon my return to Paris, Chef Serge Breda M.O.F. suggested I apply for a position at Dalloyau Gavillon with his friend, Chef Pascal Niau M.O.F.
After my interview I returned to share the good news with my fiancé, Evamarie who I met in London, and who was staying at my sister's house in the suburb of Paris. When I told my sister that I had accepted a job offer with a meager salary, she was not happy. She knew this would keep me poor for as long as I worked there. "This is an incredible opportunity to work with another excellent chef in a prestigious establishment" I argued. She just did not understand me. And she replied: "How could you be putting your future wife through such sacrifice?"
"Chef Pascal" as he was called by all his staff is a tall gentleman, energetic, very kind, respectful, and generous. He ran a large operation, above ground, in Courbevoie, the suburb of Paris. The pastry shop occupied two stories. On the ground floor were most of the production and the packing and shipping departments, and on the second floor were the "Glacerie" and "Décors".
After almost a year in the "petits gateaux" section of the pastry shop I was sent to the decoration room. This department was under the direction of Jacques Bellanger who later also became M.O.F.
Because the shop was so much larger than at Fauchon, we could produce some very large centerpieces, and cakes. Chef Pascal is the ultimate artist. He always lent a hand to big projects. He was in heaven, he loved it, and shared his passion with all of us. He inspired us to create, step out of our comfort zone, and always push the boundaries.
Working at the decoration were the goals of so many of my colleagues on the production floor. We were five pastry cooks at the Decors. All five of us had previously successfully competed in pastry shows, and a few members of this team later became M.O.F. The opportunity to compete in the M.O.F. passed me by as I emigrated to the United States a year later.
While at the decors I was able to compete in the Charles Proust, which that year, was held at the Nikko Hotel. Jean-Paul Hévin won the overall competition and I won the best entremet.
I remember an especially fun moment at Dalloyau Gavillon, when a few days after Easter, the chocolate centerpieces we had created to display in each one of the retail stores, were returned. I received a call from the loading dock informing us that the centerpieces were back and we had to come down to pick them up, and break them down in the decoration department. So, we did. Upon bringing the displays back up I called a few of my buddies on the production floor, to tell them to stop by to treat themselves on the chocolate centerpieces which had just returned. "Sure, we shall be there in a minute" they replied with excitement. About three of them came up, as it was not customary to welcome, at once, on the decoration floor any more members of the production. And so, we broke a few pieces off, and really looked forward to snacking on some fine chocolate. Oh my goodness! What a surprise! The chocolate tasted like perfume. It was terrible. We had not anticipated that it would absorb the fragrance of the luxurious parfums of our customers.
Most of the colleagues with whom I worked in all these prestigious establishments have had wonderful careers. I have kept in touch with a few of them, on multiple continents, and never miss a chance to share the fond memories which have cemented our friendships.
Chef Claude Bonté M.O.F., Breda M.O.F., and Foussard M.O.F. at Fauchon and Chef Pascal Niau M.O.F., Mr. Claude, and Jacques Bellanger M.O.F. at Dalloyau Gavillon, were well known experts of their craft and lead by example. They demonstrated the highest respects for their employers, purveyors, customers, and staffs. Never did I hear any one of them use foul language, swear, or disrespect any member of their teams.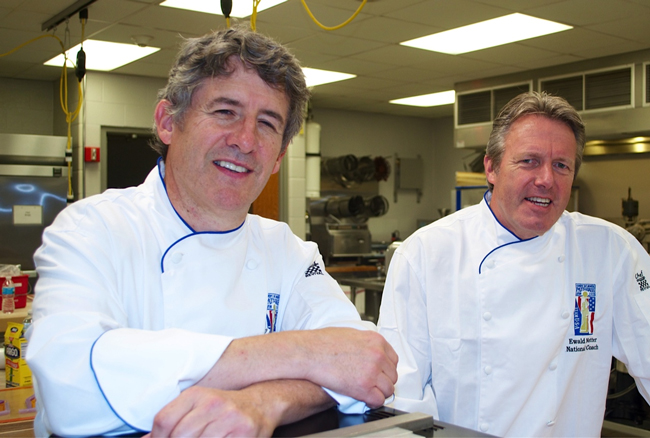 Why did you finally decide to dedicate yourself to teaching?
When I obtained my "Brevet de Maîtrise" in 1979, it was with the intention of mastering our craft and sharing my knowledge over time. I did not expect to obtain a teaching position early in my career.
My first job in the U.S. was to teach at Johnson and Wales University in Providence, Rhode Island. I stayed there for a year, then accepted the position of Executive Pastry Chef at the Ritz Carlton Hotel in Chicago, under the leadership of Executive Chef Edward Mérard. This was my first position in charge of an operation. I had a lot of technical skills and the organizational skills I was missing were quickly drilled in me by Chef Mérard. Thank you Chef for sharing your expertise, I have made good use of the education you gave me. Two years later I moved to Grand Rapids, Michigan, to take the position of Executive Pastry Chef of the luxurious Amway Grand Plaza Hotel. With Executive Chef Dan Hugelier at the helm of the kitchen, I spent eight wonderful years in this large pastry shop with a staff of 17 to 20. My neighbor was Robert Garlough who had recently created the Hospitality Program at Grand Rapids Community College. We quickly became friends and I taught a few pastry seminars at the college. One day Bob called me to inform me that the pastry chef instructor was retiring and the teaching position was open. He insisted that I should apply. I was really looking forward to teaching again. I now had ten more years of experience to share with students, and I thought I could better contribute to the growth of the program. A few weeks later I was hired. I started 1992 with a new job, and the rest is history.
What is the most important thing for anyone starting in this profession?
Passion! So many other words must complement it. Amongst them are patience, determination, respect, humility, curiosity, and hard work. "Luck is when preparation meets opportunity." Be ready to make the sacrifices, to invest in yourself, and learn from the best. Do not compromise your standards, and be a lifelong learner.
'Luck is when preparation meets opportunity". Be ready to make the sacrifices, to invest in yourself, and learn from the best. Do not compromise your standards, and be a lifelong learner'
What does being a Chevalier du Merite Agricole mean to a French person?
I remember as a young cook, having seen this title inscribed on the business cards of a few pillars of our industry. Chefs with enormous credentials, older chefs who, by their simple appearance, pose and stature, commanded respect and authority. But today I know of only a few colleagues of my generations who received this honor in the U.S.
Every two years, during the Coupe du Monde de la Pâtisserie, Club Coupe du Monde U.S.A. organizes a reception where American compatriots and colleagues from all over the world join to celebrate our participation. Chef Paillasson, M.O.F., was invited and offered to drive my friend Chef Jian Yao and I from the Sirha to the reception in the center of town. We arrived after the reception had already started. My sister Gaëtane and my brother Luc, and their spouses, had made the trip to Lyon. It was their first visit to the Coupe du Monde de la Pâtisserie. All U.S.A. 2019 team members, coaches, advisors, and a few loyal sponsors were amongst the guests. It was so nice to see so many happy compatriots, colleagues, some of my students of Grand Rapids Community College, friends, and family under one roof.
After having walked the room and greeted the guests, Chef Gabriel Paillasson M.O.F. and Commandeur du Merite Agricole stood in front of the podium and asked me to approach him.
After a short speech, he pinned the "Medaille du Mérite Agricole" on my chef's jacket.
The emotion was overwhelming. I had no idea that Chef Gabriel Paillasson M.O.F. was going to bestow, on behalf of the French government, this honor on me.
He had planned for the ceremony of "Remise de la Médaille" to be held at the Hôtel de Ville in Lyon during the opening ceremony of the 2019 Coupe du Monde de la PâtIsserie. But due to unforeseen social unrest in front of the Hôtel de Ville, the entire opening ceremony had been cancelled and hastily scaled down at the Sirha the day before our U.S. team reception.
Chef Gabriel also informed me that Mr. Guillaume Lacroix, French Consul in Chicago, would contact me to organize an official ceremony in the U.S. In September 2019, M. Lacroix came to Grand Rapids Community College and pinned the Médaille on my jacket, in front of my family, colleagues, and friends who had not been able to come to Lyon.
How did I, with my humble origins, deserve such accolade and recognitions from my peers, the professional in general, and the French government?
What has been the best moment of your professional career?
My participation in the 1991 Coupe du Monde de la Pâtisserie. My mom and dad came to Lyon and were spectators. This is the only time they were both able to see me competing. I had been in the U.S. for ten years and never expected I could be competing in France again. Arpajon and Charles Proust's successes were distant memories.
It marked twenty years since I entered the culinary field. A year later I joined the staff of Grand Rapids Community College where I taught advanced pastry classes, baking sciences, wedding cakes and centerpieces. I never anticipated it would bring me so many opportunities to learn and give back to the industry.
The second most important step in my career is when, three years later, I was invited by Kellogg's to create some baked prototypes. This led to twenty-two years of intense unique professional growth in one of the world's best food research and development facilities.
In retrospect, the best memories are the time my mom and dad attended in 1991, and later when my mom and siblings were spectators. They got to meet some of my international friends, colleagues, former competitors, and members of our organization. This gave them a glimpse into my American life, which otherwise, they would have never known.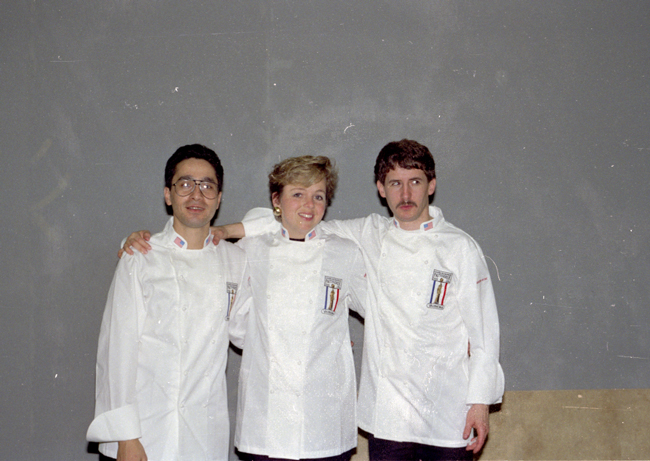 'The second most important step in my career is when, three years later, I was invited by Kellogg's to create some baked prototypes'
If you could delete anything from your long career, what would it be?
At times, I realized that I made mistakes, and also recognized later that my actions had unanticipated consequences. We are the sum of our negative and positive decisions. Our failures and successes shape our personality. I would not be sharing these thoughts with you if I had taken a different path.
How many students have passed through your hands, approximately?
More than sixteen hundred.
How do you remember your time at the Coupe du Monde de la Pâtisserie?
Tense, nervous, exhausting, stressful when I competed as the U.S. Team Captain in 1991.
Over the years my role changed, coach, manager of the team, then President of Club Coupe du monde U.S.A. Today it is about partnering with generous sponsors, organizing the national selection, planning the training and logistical support of the team, and managing a network of colleagues who can help coach, motivate, guide, and support the team members.
With team 2021 my principal priority was to protect everyone involved with our organization. We could take the risk of exposing anyone to contamination by Covid. In the spring of 2020, I realized that we could not travel, train and prepare for a successful participation in the January 2021 Coupe du Monde de la Pâtisserie. This was the first time since its creation in 1989, that the U.S. was not going to compete in the most prestigious Pastry Team competition.
The memories of the Coupe du Monde are the lessons learned, the inspiration, the shared passion and dedication to excellence exhibited by all the participants, coaches, and organizers, and the lifelong friendships with fellow competitors and colleagues from all over the word.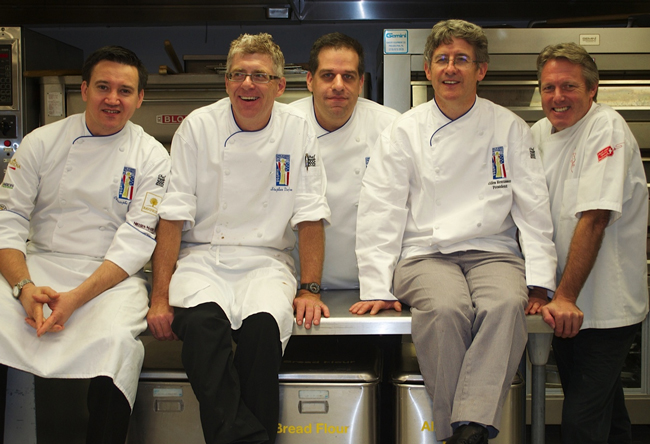 What is the most important thing that has happened in the artisan pastry sector during your 50 years of dedication?
In 1989, Chef Gabriel Paillasson M.O.F., with the generous support of Valrhona, created the Coupe du Monde de la Pâtisserie. It brought unparallelled recognition to our craft and generated huge media attention, so much that a few companies and professional organizations promptly copied this new competition format.
Ever since its creation it has been held every two years in Lyon, France, during the Sirha (international hotel and restaurant show). It has become the favorite destination for many chefs and pastry chefs, from all corners of the globe who come to witness exceptional craftsmanship, and network amongst like-minded colleagues.
The quest for the "Coupe" has fueled innovation and "Pastry excellence" in all sixty-three countries, which have participated in continental selections and finals in Lyon.
All of a sudden, pastry chefs from all corners of the globe world had, every two years, a common destination where they could draw inspiration from the exceptional creations exhibited by some of the world's best pastry chefs, chocolatiers, and glaciers. These colleagues also know they will have the opportunity to network with colleagues, and discover the displays of new and exciting pastry ingredients, tools of all sizes, equipment, books, and packaging.
I cannot think of neglecting to mention the other enormous revolution that the advent of the Internet has brought to the world and our profession.
What is the evolution of artisan pastry sector in the U.S.A.?
Fine, delicate, artisanal pastries are still not available over the entire country. The American people's shopping habits do not include a daily stop at the local bakery or pastry shop.
There are a few good pastry shops in each large city, and a few exceptional ones in some of the larger ones. Hotels and private clubs are better funded, and have more resources than independent owned artisanal pastry shops. Overall, they produce high quality pastries, and keep up with the trends.
How do you imagine pastry in 2050?
I could not answer this question without risking making a fool of myself. So, instead, I will offer a brief analysis, which may help our younger professionals, to better prepare for the next thirty years.
Has COVID accelerated the changes that we could have expected in a distant future? Many hotels, restaurants, resorts, and other fine food establishments have laid off many chefs.
Will customers still shop in the local pastry shop or will they be buying their desserts and baked items in large grocery stores?
Will the business of will home delivered groceries, and delivered prepared food grow?
Will the pastry shops need to offer these services?
Will present focus on sourcing local produces, farm to table, and other hyper local trends gain momentum?
What choices will the pastry chef offer his customers?
Will pastry shops focus on limiting the variety of items they will produce?
Will savory products need to occupy a larger place on the display shelves?
Shall we see the creation of a larger number of wholesale pastry shops specialized in the fabrication of a limited line of items?
And the health and moral concerns: Gluten Free, Vegan, reduced sugar, nutrition
Reductions of preservatives and artificial colors.
Pastry chefs will have to be nimble to adapt to the rapid changes of fashion, fads, trends, and the influence of social media.
Will future Department of Agriculture and Food and Drug Administration laws improve the health standards of ingredients, and how will they affect our traditional abilities to exercise our profession?
How will future job regulations and social laws affect the growth of existing and future businesses?
How will global warming, soil erosion, rising level of the oceans, source, access and cost of energy impact what we do?
What shall we do to better reduce waste and increase recycling?
What constrains will global warming impose on agriculture? Will rustic, heirloom, long forgotten seeds be reintroduced?
Will tropical and exotic ingredients, grown in faraway places, still be easily accessible?
Pastry chefs have been the most affected sector of the restaurant industry. How many will return? Many have left the craft and changed professions. A few have opened small shops or are simply baking at home and selling their productions at Farmer's Markets.
Will they be energized and successfully grow their business when social distancing restrictions are lifted?
How long will it take to replace all the talent that was lost over the last twelve months?
The staffing of every pastry shop has greatly changed over the last ten years. Today the majority of pastry cooks and pastry chefs are women. How will their participation transform the profession?
How will future generations of pastry cooks be trained? How can we reduce the cost of professional education? Will there be more on the job apprenticeship opportunities?
What role will online learning play?
Will today's skills of "well rounded" pastry chefs survive, or will they stand as dinosaurs of a distant bygone era?
What will replace the silicone mates and molds, blast freezer, cutting guitar, induction heat, combi ovens, vacuum mixers, 3D printing, and so many more tools, sprung over the last thirty years?
What new pieces of equipment will pastry chefs, engineers, and scientists invent and introduce in the pastry shops?
How will they help pastry chefs be more efficient, productive, nimble, and creative?
Will the use of wooden tools be welcomed again in the pastry shop? Never mind, I will give my rolling pin to my grandchildren.
As I look back and take time to reflect on the social, technological, and scientific changes that I witnessed over my fifty years in the kitchen and pastry shop, I am inspired and encouraged to believe that our profession will continue to support the creativity of dynamic pastry chefs who will, through constant adjustment of their skills, be able to earn a good living.
'Will the use of wooden tools be welcomed again in the pastry shop? Never mind, I will give my rolling pin to my grand children'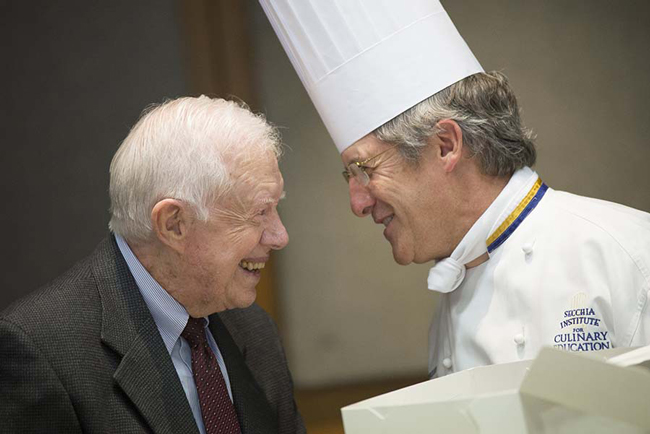 What are you currently doing?
Our oldest son, Jean-René, has a vegan and gluten free wholesale bakery in Grand Rapids. I plan on spending a good portion of my time to assist him. But I will also dedicate some time during the school year, to walk the grandchildren to school, and bring them back home in the afternoon.
Retirement from the college is just another stage in life. It does not mean I am closing doors on friends and colleagues. I do not plan on ever totally distancing myself from a profession which has brought me so many, wonderful experiences and memories. I do plan on staying involved with consulting projects in the food industry.
The Coupe du Monde de la Patisserie will also take a good bit of free time, and so will "WorldChefs," the former "World Association of Chef's Societies," for which I am the pastry advisor on the Culinary Competitions Committee.
Traveling with Evamarie to France, and discovering the rest of Europe are on the priority list.
And when there is any time left, photography, bike riding, and reading will provide welcome breaks.
'As I look back, and take time to reflect on the social, technological, and scientific changes that I witnessed over my fifty years in the kitchen and pastry shop, I am inspired and encouraged to believe that our profession will continue to support the creativity of dynamic pastry chefs who will, through constant adjustment of their skills, be able to earn a good living'