The Ritz-Carlton Millenia Singapore, founded in 1996, is located along Singapore's Marina Bay. It is conveniently located near local attractions like the Art Science Museum, Gardens by the Bay, and luxurious shopping. Walking the streets of Singapore is very pleasant, this cosmopolitan place is a melting pot of cultures filled with people from all around the world. With its rich multicultural heritage, it has a variety of cuisine to cater for its diverse population. It is the most expensive city to live in and also the most obsessed food, sometimes considered the food capital of Asia.
This time I had the chance to interview its executive pastry chef, the French chef Benjamin Siwek, who possesses a vocational degree in Baking and Pastry Arts from the Ecole de Paris, des Metiers de la Table, du Tourisme et Hotellerie. He began as an apprentice to Pastry Chef Christelle Brua at the three-Michelin-starred restaurant Le Pré Catelan in Paris, before progressing to Pastry Cook at the world renowned Hôtel de Crillon Paris. In 2010, after a trial in the pastry kitchen of DANIEL in New York, Chef Benjamin was offered a Sous Chef position at the Bistro Moderne at the JW Marriott Marquis Miami. In 2012, he was promoted to Executive Pastry Chef at the Bistro & Oyster Bar in Marina Bay Sands Singapore.
In 2016, he joined the Ritz-Carlton Millenia Singapore, where he has overseen the pastry and bakery stations, and the creations for Colony, Chihuly Lounge, the Ritz-Carlton Club Lounge, the hotel banquet, and catering events.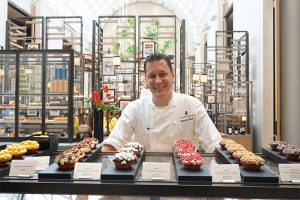 How do you like working for the Ritz-Carlton Millenia Singapore?
This is very different. I come from a restaurant background, where things are a bit hotter! you have to give a lot of respect to your co-workers, you have to treat them as ladies and gentlemen, it's a different culture and I have learned a lot.
How would you describe your pastries?
This city is a melting pot of cultures. It's well known for tropical fruits, so I use French signature pastry creations which use seasonal ingredients from around the globe while incorporating local produce for an unforgettable dessert experience. For example, when we work with local ingredients, we use foreign technics. A few years ago, I created a souffle with durian, which is the king of fruit, and I served it with a mango steam sorbet, which is called the queen of fruit, so I named it the Royal Souffle dessert.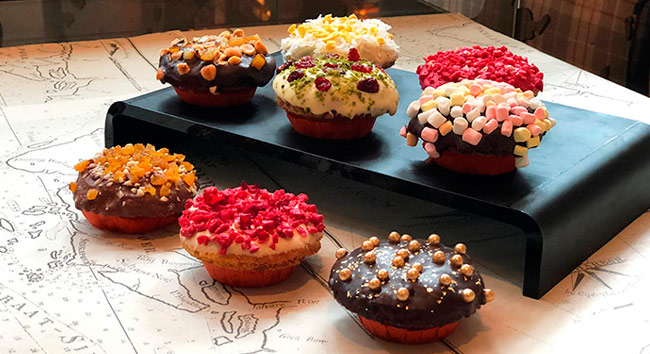 What is your favorite part when making a new dessert and where do you get your inspiration?
I have to think about new ideas all the time, you know we have standard menus but of course we have repeat guests who want different desserts all the time. They don't want what they had last year, for example. I work like the seasons, every three months I try to change the desserts, bring dynamic flair into the restaurants, the lounge, and pastry boutique. I love creating new things, you don't need to have a recipe, you can create one!
"I work like the seasons, every three months I try to change the desserts, bring dynamic flair into the restaurants, the lounge, and pastry boutique"
What do you think would play an important role in trends in Singapore?
Healthy pastries. Today's chefs are looking more and more into making lighter desserts, using raw sugars, nothing heav. There is still a lot of work to do, but I think the trend will be to not use additives, no conservatives, no coloring, using better ingredients, in the end making it healthier.
It's a small world, schools and suppliers often organize classes and that is how you meet other pastry chefs. A few months ago, Valrhona organized Circle view programs, we are part of the club, we get to see new products, we go visit cocoa plantations in Bali, we see how they cultivate cocoa beans. In the past few months, they had top class chefs, MOFs, etc. We had the FHS in April.