The French chef Benjamin Siwek, executive pastry chef of The Ritz-Carlton Millenia Singapore, is well known for his signature pastry creations which use seasonal ingredients from around the world while incorporating local produce, for an unforgettable dessert experience.
In the interview with our correspondent Santiago Corral, he reassured that he continually comes up with new desserts to surprise customers. Creations like this royal uppercrust, whose recipe we detail below.
Royal Uppercrust
chocolate muffin

2 eggs
220 g sugar
110 g all-purpose flour
6 tablespoons unsweetened cocoa powder
2 teaspoons baking powder
1 teaspoon vanilla essence
160 g milk
150 g butter
120 g semisweet chocolate chips
Beat the eggs with sugar, mix with flour, cocoa powder, baking powder, vanilla and milk.
Fold in the melted butter.
Add chocolate chips; coat them with flour before mixing into the batter.
---
salted caramel
150 g sugar
1 pinch fleur de sel
150 g cream
20 g butter
Place sugar in a medium saucepan over medium heat. Swirl sugar in the pan occasionally until melted and medium-brown in color.
In a small saucepan, combine cream, butter and salt and bring to a simmer. Remove from the heat and in several additions, carefully (it may spatter) pour into the pan with melted sugar. Stir over medium heat for 2-3 minutes until smooth and slightly reduced.
Remove from the heat and strain through a fine-meshed sieve into a bowl set over ice, stir until well chilled, it should thicken. Store refrigerated.
---
double chocolate chips cookies
90 g sugar
90 g brown sugar
115 g butter
215 g flour
4 g baking soda
3 g salt
1 egg
5 g Vanilla extract
115 g dark chocolate chips
115 g milk chocolate chips
In an electric mixer fitted with the paddle mix the butter and the sugars together until pale. Combine flour, baking soda and salt together and add in the mix.
Add in the egg and vanilla extract.
Add in the chocolate chips and mix just until it is well combine.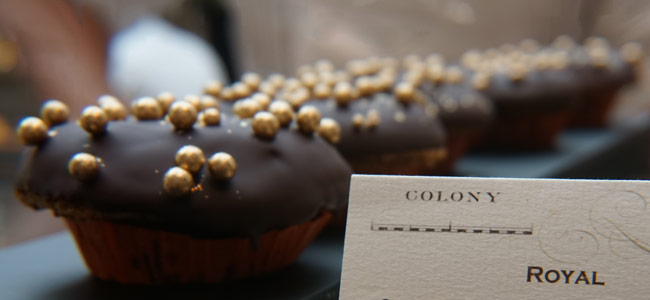 Finish
Pre heat your oven at 175°C.
Line some paper cups in a muffin mold (5cmØ and 2cm height). Scale 30g of muffin mix into each molds, pipe a small amount of the salted caramel in the middle. Scale 35g of the cookie mix and cover the muffin.
Bake in the oven for about 10 minutes or until the cookies is golden brown.
Once it is at room temperature coat the top of the cookie with some dark chocolate (or can use different type of coating) and decorates as you wish.