Taking a snapshot of Patrick Roger is almost impossible. His dynamism and creative drive lead to constant change, taking on new challenges, presenting new collections, and turning everything around. Even in his more purely artistic facet, the sculptor of striking chocolate figures, often inspired by the animal kingdom,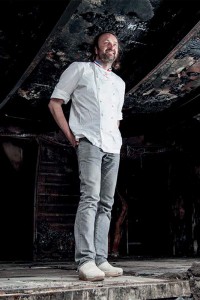 is also about to cross a new barrier and become a sculptor not only of chocolate, but also of other materials which are more common in this discipline, such as bronze and aluminium.
As a chocolate maker, this fall/winter season highlights his willingness to recover the cultivation of almonds in France. In the past, the French almond boasted a considerable prestige related to its flavor, but with the passage of time it was abandoned in favor of varieties of other origins. Noticing this abandonment, Patrick Roger contacted producers of different regions and proposed to reclaim its production.
Today he owns a total of 43 hectares of almond trees distributed in two plantations acquired between 2011 and 2014 in Southeast France. There, he gathers four different varieties of almonds: Ferrastar. Feranduel, Aï, and Feragnès. The annual production ranges from 30 to 60 tons, an amount that allows him to cover 50% of the creations that leave his workshop, including the pralines of his own creation, the coated almonds, and the nougats he also makes. The next step on this path has been natural for a chocolatier like him: presenting a range of almond praline bonbons called Instincts, with four types, each inspired by one of the cultivated varieties. A range published in Dulcypas #444.
Instincts Collection
Four praline bonbons made from the four almond varieties that Patrick Roger himself cultivates directly in the South of France. Each variety, Ferrastar. Feranduel, Aï, and Feragnès, is combined with a different chocolate in order to enhance their respective personalities.