It would surely be difficult to find a medium or advanced level professional pastry chef, anywhere in the world, which may not have heard of Antonio Bachour. Everyone knows of his wanderings and many of them have become avowed followers of a style which has evolved over time but continues remaining true to his initial postulates on color, fresh elements like flowers and micro vegetables, or decorations that increase the sense of volume to the final presentation. The news is that there is now a place where one can enjoy the pastry of this chef who lives in Miami. Bachour Bakery and Bistro opened last March in the Brickell Center. A wide and tall facility where the true protagonist, as the head chef himself explains, is the showcase of cakes and desserts. There, one can get verrines, plated desserts, petits gateaux, and entremets made with care, demanding the highest perfection in every glaze, decoration, or internal composition.
The space opens lengthwise to make way for a large tasting room where guests can enjoy the sweet local offer, as well as savory proposals made by Bachour's partner in this venture, chef Henry Haine. A total of 170 square meters in which there is even a dough sheeter in the lounge, which is used to produce pastries in view of the client, like in the kitchen. Daily output is visible to all who come to the shop.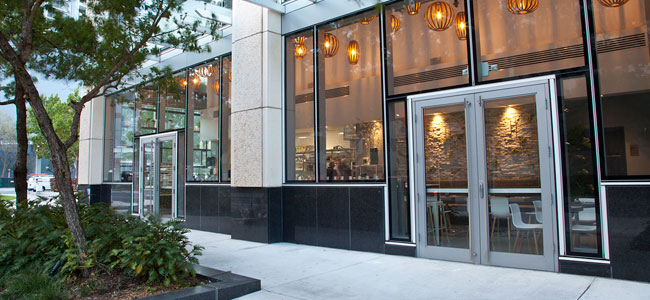 Antonio Bachour is satisfied with the opening and especially with the warm response from the public that he is getting in the city. Although the United States is not a country that is used to European pastry boutiques, it seems that this format demonstrates society's growing interest for this type of offer. But to get here, the chef of Puerto Rican origin has had to fight a lot. This is a very special investment with a high standard in sustainability and respect for the environment and pushing up costs to more than a million dollars.
Antonio Bachour's generous and open character is also felt in the organization of the workshop. A team of nine employees, five of them in the kitchen, is responsible for directing all production and to achieve the required level of quality, even when the owner himself is not in the place because he is attending to his many training commitments all over the world. It was here that his two most direct managers, the pastry chef Ana Karina and the sous chef Sandro Ambrosio, talk to us.
We wanted to share the impressions of the three during these early stages of existence of BBB (Bachour Bakery and Bistro) and some of the creations that we can find on the premises. They themselves tell us.
Antonio Bachour interview
'There is hunger for good pastry shops, I never thought we would work so much'
 What strategy have you used to publicize BBB in the area?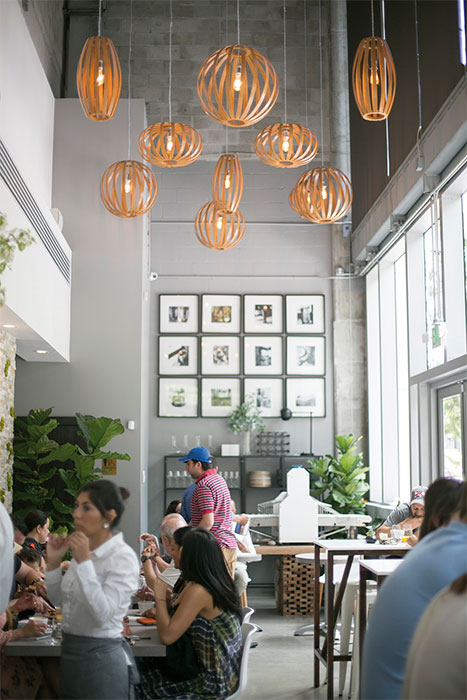 We focus on a product that is visually appealing. The first thing people do when they enter the store is to go straight to the window and say 'wow!'. Our goal is to take care of presentation. The Bachour brand is based on the WOW factor.
What differences exist between BBB's offer and the ones so far developed at the St Regis Bal Harbour?
We have two different types of desserts, there are desserts at BBB that are more for showcasing and at St Regis they were more for banquets and restaurant. The BBB desserts are more elaborate, with more decorations and glazes. They are technically much more elaborate and also have different structures for each creation.
The concept of European Pastry-boutique is not very common in Miami or the USA. What are your main challenges to gain a regular clientele at BBB?
The challenges to win over a regular clientele are quality, presentation, and creating new desserts for clients so they don't get tired of seeing the same things. The strategy is simple: everything fresh, we make desserts daily for that same day. We are happy because can't keep up with the demand, we are selling about 250 individual desserts daily.
In short, is there 'pastry' life outside the sphere of influence of a hotel or restaurant in the USA?
Definitely! What is needed are good patisseries, which don't exist! People are hungry for good pastry shops, but they can't find any! That's what customers have said. I would never have imagined that. We are making desserts like crazy, demand is crazy!
By the way, the dough sheeter in the middle of the shop is intriguing, are you going to laminate croissants in front of customers?
It's part of the show! Sure, we roll them in front of customers during service. In addition, we make croissants and desserts in front of them. The kitchen is open.
Five essential ingredients within the range of BBB
Chocolate, tropical fruits, hazelnut praline, raspberries, and butter.
'I am thrilled that such simple ingredients can create works of art'
Ana Karina Rivera, Pastry chef at BBB
She has worked alongside Antonio Bachour at the St Regis Bal Harbour, becoming his right hand in developing some of his trainings and books. Having trained in Mexico, she has developed a career which is increasingly attached to the sweet world, which inspires her since she was a child, becoming a specialist in macarons, 'cake pops', and painted flowers with cocoa butter. As pastry chef at BBB her role is 'that the standards set by Antonio Bachour are never lost and that every person entering the premises becomes amazed at our showcase.'
'I love the happiness that a dessert can cause,' she confesses, 'the evolution of ingredients is very exciting for me, like how taking something as simple as flour, eggs or cream, you can create works of art.' Ana Karina is particularly fond of colors and variety of flavors, textures, and aromas.
When it comes to her experience with Antonio Bachour, she explains that she started working with him three years ago. 'Working with him has been the most rewarding experience of my professional career,' and then makes it clear that 'I have been allowed to grow, expand my vision and push me in the right direction to get the best of me, I love his eagerness to see us grow, which gives us the freedom to experiment and create, confidence and support; and the fact that he can surprise us with a different dessert every day.'

'We try to implement all of Antonio's ideas with the goal of being the best pastry shop in the USA'
Sandro Ambrosio, sous chef at BBB
He previously worked alongside Carles Mampel in Barcelona, but the Argentine has toured other interesting places during his career. He himself sets us among his influences, in addition to that received in Bubó, Astrid and Gastón Casa Moreyra in Lima (Peru) and his experiences alongside Enric Rosich, Sergi Arola, and Diego Muñoz. When he introduces himself he is categorical, 'being a pastry chef is not a choice, you have to be born that way,' and continues, 'You need a lot of passion, dedication, discipline, and above all, a lot of effort. You never stop learning.'
His role as sous-chef is to make sure all production of pastries, cakes, breads and chocolate comes out, alongside Ana Karina. 'We try to implement all of chef Antonio Bachour's ideas and especially with the long-term goal of being the best bakery in the USA.' He clarifies that he has known his new boss personally for just a year and that when given the opportunity to work with him, immediately a 'romance was born.' 'Working with him is very rewarding; continuously growing professionally beside him is priceless.'
You will find three BBB's recipes in so good #16