Ju Chamalo works in a banking group, a world totally opposite to that of pastry. However, his great passion is flan, a passion that led him to create an Instagram profile that has more than 50,000 followers and to collaborate with the patisserie Tartelettes and with Desty Brami, executive pastry chef at the Château de Ferrières. "For me, it is the quintessential delicacy. When my classmates at school were running after cakes and chocolate, I wanted a flan. Why? I thought it was so much better!" he assures.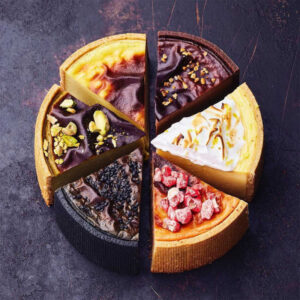 After having tried flans from practically all the maisons in Paris, bakeries, and even grand palaces, he decided to embark on the adventure of making them himself. This devotion has made him a true expert in this dessert that he versions and adapts for all tastes.

In the book Mes Flans Pâtissiers, Chamalo proposes around fifty flan recipes, from traditional vanilla to fruity, including pistachio praline. Plus, he shares helpful tips and tricks.

Available at Books For Chefs in French, it is divided into several sections: pâtes, classic flans (vanilla, chocolate, caramel…), 'insert' flans (praline pistachio, Cajou, strawberry vanilla…), original flans (cookie, peanut, choco coco…) and flans in collaboration with chefs Desty Brami, Arnaud Ryckebush and Julie Trespeuch.

With photographs by gastronomic photographer Aimery Chemin, it is a visual, practical, and essential book to be an expert in flan. A creation that, as Chamalo explains, "requires very few ingredients, availability, patience, and can quickly become crazy".