The French chef Florian Couteau, who grew up on the outskirts of Paris, started his pastry training at a young age when he was only 15 years old. He then decided to join one of France's leading professional training schools, Ferrandi. While attending the school he had the chance to work for the Automobile Club de France, a very exclusive private club in Paris, which is also known in French as "ACF". The club offers exceptional settings and views located on the former Place Louis XV, now called Place de la Concorde. It offers its members comfort in a prestigious setting and it is where France signed a treaty by which it became the first nation ever to recognize the independence of the United States.
After finishing his culinary training, chef Florian worked under the tutelage of Jean George Vongerichten at his Parisian Venue Market. Florian also worked for the prestigious Hotel Le Maurice in Paris until he was hired to do the re-opening of Le Royal Moncea Ruffles Hotel, under the supervision of Chef Pierre Hermé, chef consultant hired to make all the new pastries. Now he is the executive pastry chef of the luxurious Rosewood Hotel Beijing.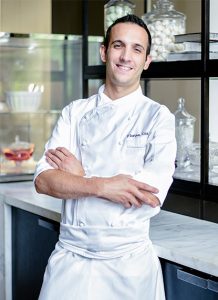 How did you end up in Beijing? What brought you here?
I met Chef Yannick Alleno, and one day he called me to help carry out an event for his new restaurant in Beijing. Soon afterwards he invited me and gave me the opportunity to open a restaurant in Beijing. In 2004 I moved to China. I was planning on being in Beijing for just 1 or 2 years and I have been here ever since!
Tell us about your life in Beijing and your culinary experiences?
Life in Beijing is quite good, I feel free, I feel good, I feel safe, I really enjoy my personal life
here. Now, in terms of work, it has been very difficult. I was young and China is not like Europe or America where you get promoted for being successful and a good worker, here in China one of the cultural shocks is that you don't get a promotion on how successful you are, but because of the many years that you have worked in the company. One more challenge was communication, since my English was not good, and I didn't speak Mandarin, so it was a nightmare. I was working with Yanick Alleno at his fine dining restaurant but unfortunately it closed after 5 years.
Did it have any Michelin Stars?
We don't have Michelin Stars in Beijing yet, just in Shanghai. 2019 will be the first year that Beijing will make it to the guide.
How did you transition from being a Restaurant Pastry Chef to Executive Pastry chef of the Rosewood?
After Yanick Alleno, I started working for Alain Ducasse for the opening of his restaurant in Beijing, the restaurant took longer than expected to open so I just didn't want to wait since all my work was done on the side. That's when I applied for the Position of Executive Pastry Chef and I got it.
"I work very closely with my team and I like to challenge them, to make them come up with new ideas. I want to push my team's imagination"
What is it like at The Rosewood?
We have five outlets for pastries, where we provide desserts for all venues, in Pastry we have 20 people, 16 pastry chefs, and 6 bakers. The team is quite good and very happy, especially when they see the evolution from what they were able to do to what they can do now. I have done a lot of training, we have built a great team and thanks to my pastry sub chefs, it's easy to focus on operation, research and development, overall create and work with the marketing team.
How do you see the evolution of the pastry scene from when you arrived to today?
Today people in Beijing have a better understanding about western food. When I arrived in Beijing, they not only not know about pastry but even just food itself. People would come to Yanick Alleno Restaurant just because it was expensive, and it was a good outlet for people to take their iPads and clients and eat a Tasting menu in 30 minutes, not caring about the food or wine. Now it's much easier to get better products and chocolate. There used to always be issues with customs, but now everything is much easier. Working for clients is always a new challenge, it makes us focus on better quality food, healthy food. People expect a lot, they don't care how much it costs as long as they get the quality they pay for.
Where do you get your inspiration when it's time to create a new dessert?
First thing I do is check what kind of products I can find in the market. I try to use what I can source locally, since using local ingredients adds value to the meal and to us. On my free time I love to go to art places and look at different artists and sculptures, we have a lot of good art galleries, books, and social media. I also work when is time to get inspired, I like to sketch my desserts and once created, we look to see what produce is in season at that time of the year.
We start with flavor and taste, and food tasting with my team. I always push them by giving them a sketch and I tell them what recipes we can use, trying things together, discussing the desserts, and coming up with a better product. I work very closely with my team and I like to challenge them, to make them come up with new ideas. I want to push my team's imagination.
"I check what kind of products I can find in the market. Using local ingredients adds value "
Where do you want to take your career in the future?
I want to continue at Rosewood. For me, it has been a great change from restaurants, it has brought a lot of opportunities. I had the chance to go to the opening of Rosewood in Paris and had the chance to do the opening of Rosewood Cambodia in Phonom Penh. It has given me the chance to experience other products, cultures, and meet other chefs from around the world. We have a task force. For example, when a new shop is about to open we become a task force, for two or three weeks. Beijing was the first Rosewood to set up the standards and procedures for all the Rosewoods in Asia, so we go and help the new teams.
The Stone, is one of the Rosewood Hotel Beijing's latest creations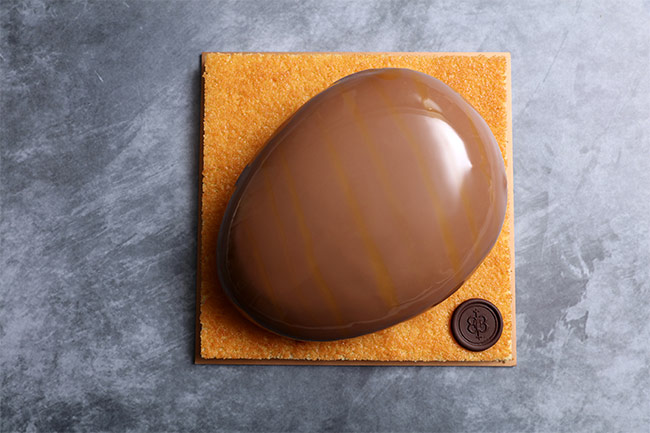 Other cake retail creations by Rosewood Beijing Hotel
The Pill: Accompanied by a financier and a Dulcey blond chocolate ganache, this "pill" is made of a mousse and a cheesecake sponge cake.