Our first contact with Vincent Attali came about after his victory in the 2016 AUI US Pastry Cup, an intense experience in which he faced another 11 professionals and where he had the best finish. Since then, this pastry chef has gone from working at the Moroccan influenced restaurant, Mourad, to working for the technology company LinkedIn. Both experiences, his victory in this important competition and his new position at the head of a structure with five cafeterias and 18 employees in the pastry station, have given him wings to emphasize his wager on Mediterranean pastry, to convert his innovation and latest trends in his main line of work and to enjoy an ambitious project while at the same time raising awareness with a sustainable vision of food. He himself explains it to us.
Photograhers: Gordon Mak, Anthony Perez and Aaron Scales
Where does Vincent Attali come from?
I was raised in New York City, and grew up eating classic French cuisine. My father, Michael, worked as both a chef and pastry chef under the watchful eyes of Troisgros, Lenôtre and Bocuse. Despite my parents not wanting me to go into the hospitality business, I started working at some of Manhattan's top pastry shops, including Fauchon, Financier and Payard while in college. My dad remained my mentor throughout this time, and supported me to get a strong foundation in French pastries.
After graduation, I continued my pastry track and worked at three-Michelin star restaurants Daniel and Robuchon alongside pastry powerhouses Dominique Ansel, Richard Leach and Salvatore Martone. It was while I worked with Salvatore at Robuchon, that I placed second at Pastry Live's 2015 Plated Dessert competition. Wanting to challenge myself with different flavor profiles and more nuanced cuisine, I came aboard as pastry chef to Mourad in San Francisco. My experience and team at Mourad help me win first place at the AUI Pastry Cup 2016, with Mediterranean re-interpretations of French-Asian inspired plated desserts.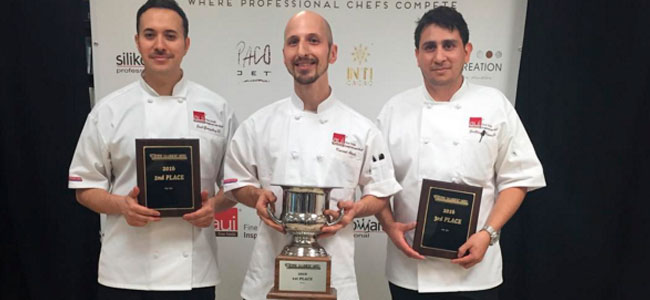 Why did you consider taking part in the AUI Pastry Cup?
The AUI Pastry Cup was a great example of an event that tested endurance and grit, since it was spread out over 3 days among 12 contestants. Each day, contestants gave their best shot and half would be eliminated. The judges Antonio Bachour, Ewald Notter, Chris Elbow and Orlando Santos (an inspiring assortment of hotel, pastry shop, restaurant and chocolate experts) were critical, yet encouraging at the same time. Despite having a timeline and recipes set in stone, flexibility was required to work around obstacles, or to figure a way to differentiate oneself from the competition.
What made you jump from a restaurant kitchen to a great firm like LinkedIn?
My foray into corporate kitchens came from after a conversation I had with Laurie Jon Moran, pastry chef at Dropbox (formerly of Le Bernardin, Per Se, and Daniel), who had great things to say about working at tech companies. Upon learning about the amazing food program at LinkedIn, I realized the potential of a work and family life balance in an environment that fostered innovation. I started January 2017, gradually immersing myself in each cafe and slowly incorporating changes.
Tell us about your daily tasks as the Executive Pastry Chef for Bon Appétit?
Not a day goes by where creativity isn't included in our recipes. One day we can experiment with a series of bright, tropical flavors inspired by Antonio Bachour, the next day an assortment of éclairs à la Christophe Adam, breakfast pastries like Greg Mindel or whimsical creations like François Benot.
It's not just pastries that are inspiring, but the food as well. This is thanks to Bon Appétit, which manages many accounts nationally in the corporate, university, and specialty venue food scene and adheres to industry-leading guidelines for responsible sourcing and from-scratch cooking. The founders, Fedele and Michael Bauccio, pushed for chef-driven programs, sustainable practices, farm to fork initiatives, and seasonality of produce. These are all key attributes to the San Francisco food scene, which have slowly spread throughout the United States in the past 20 years.
How do you organize your pastry team?
At LinkedIn, there are pastry lead cooks (aka chef de parties) at each location who begin developing menus two weeks in advance, based on the chef and the entire team's creative ideas. These ideas are based off of previous culinary experiences or inspiration from other chefs. All the pastries are made onsite by cooks who care and who really get to put their personal touch into their creations. For breakfast, we have an assortment of three different types of breakfast pastries such as croissants, muffins, cannelés, brioches, scones, etc. For lunch, a single dessert of the day with fresh fruits or chocolate garnishes on entremets, tarts, verrines etc. Or a small plated dessert, at an action station, with three pastry people running the line.
Working five days a week with the same team helps people develop a sense of camaraderie and accomplishment, as they work on projects from start to finish. Plus, they work in new kitchens with dozens of line cooks and café chefs who monitor the pulse of the kitchen and our guests. Since I've started here, I've come to rely on all the other chefs who have great restaurant and hotel experience. They're my eyes on the field when I'm busy jumping from café to café, or meeting with my lead pastry cooks.
The idea of a coporate café has advance significantly thanks to Silicon Valley. Much like some of the world's most renowned hotels, which create exceptional pastries in-house, our pastry program at LinkedIn is all about the artisanal touch
Indeed, it doesn't look like the typical concept of corporate café.
The idea of a corporate café has advanced significantly thanks to Silicon Valley. Now, contemporary and well-equipped kitchens are the norm, and we cook food that is seasonal and diverse in origin. Much like some of the world's most renowned hotels, which create exceptional pastries in-house, our pastry program at LinkedIn is all about the artisanal touch. The fun part is, every day is completely different. This has become the modern pastry shop.
Can you give us some example of this fun part at work?
For instance, VIP events manifest, as catering and events distribute beos loaded with special requests, including dinners for the executives. 'Chef tables' are held once every other week for a dozen lucky employees, where a 5 course refined lunch is served to highlight the skills and repertoire of a café chef. 'Sneak attacks' or pop up events occur on property where the employees are surprised with specialty foods or pastries. Even classes or workshops that teach employees specific skills, like making macarons or pizza. "What's fun is that there are many means by which the food team can showcase various skills. The pastry teams will have different ideas based on their prior experiences or inspired by last trends. The routine never sets in as each day stays fresh.
You will find these two recipes in so good #18