Junichi Mitsubori. World of Wagashi. Passion in the serenity
January 18, 2017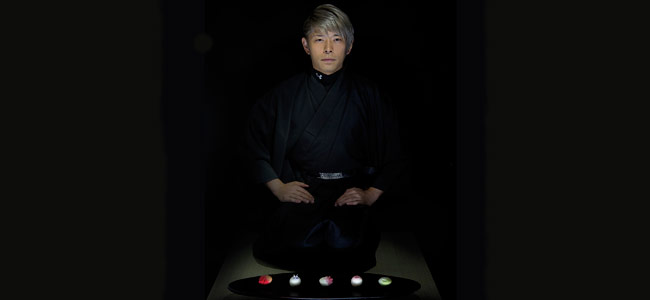 Junichi Mitsubori, a third-generation wagashi artisan of traditional Japanese sweets store has long engaged in wagashi-making since his childhood. About a year ago, he began to call himself a master of Kado (way of confection) or wagashi artist, just like a master of Chado (way of tea or tea ceremony). Wagashi is broadly classified into two groups: the ones eaten daily such as manju and dango, and Jo-Namagashi served with matcha at tea ceremony. Jo-namagashi is usually created upon customer's requests. Wagashi artisans talk to hosts of tea ceremony about what to make suitable for the season, guests or purpose. Most of the Jo-namagashi are Nerikiri, which are made of sweetened white bean tinted with colors and designed according to the season. Things in nature are depicted on a small piece of the bean paste. Sophisticated wagashi like Nerikiri originated back in the Edo period (1603-1868) and they were naturally produced by artisans' hands unlike today's mass production by molds and machinery.
Text by Reiko Matsuno / Photos by Yukari Nagase
In this poetic video, Junichi introduces the technology of "Japanese Confetionery" to the world as Wagashi artist.
Check and enjoy Mitsubori's recipes, with step by step images, at so good #17.