Aabhas Jain, the Assistant Director Culinary Studies of the Indian School of Hospitality, has two passions: pastry and education.
The Indian chef acknowledges that many consumers in his country continue to opt for traditional products, although thanks to travel and social media, people are more open to trying new things. This is something very positive for him since he loves to explore and take on new challenges, "because that is what helps me grow. The euphoria of being able to create something new every day is a guiding force in my life," he explains. A good example is this delicate rose and pistachio cake, decorated with fresh rose petals, blanched pistachio, and silver sheet, which gives an Indian touch to the tea cake.
Rose and Pistachio tea cake
10 g unsalted butter (1)
50 g milk 3% fat (1)
65 g milk powder
---
120 g unsalted butter (2)
150 g icing sugar
210 g pastry flour
30 g almond powder
30 g pistachio powder
2,5 g baking soda
60 g curd/ yogurt
190 g milk (2)
60 g pistachios (chopped)
60 g white chocolate (Valrhona Opalys 33%) (melted)
20 g dehydrated rose petals
20 g rose syrup
5 nos. each fresh rose petals (red & pink)
Montage
Heat milk powder to caramelize it, add milk (1) and unsalted butter (1) to form a paste.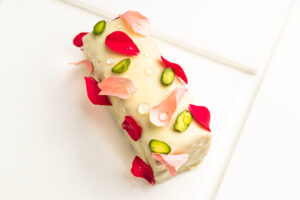 In a stand mixer transfer the mixture and add unsalted butter (2) and icing sugar to cream.
Once it is pale in color, add milk (2), rose syrup and curd to the mixture and mix well.
Add pastry flour, almond powder, pistachio powder, baking soda, dehydrated rose petals and chopped pistachio to the mixture.
Once all dry ingredients are mixed well, add melted white chocolate to the batter.
Pour in the desired mold and bake at 170° C for 25 to 30 minutes.
Once it comes to room temperature, dip it in tempered white chocolate to form a coating outside the cake.
Garnish with fresh rose petals, blanched pistachio, and silver sheet.
---