For the past ten years, Carrie Lewis has been working as a pastry chef at Chez Panisse (Berkeley, California), a French inspired bistro style restaurant where the diner can try vegetables right out of the garden and fish straight from the sea. In this emblematic place, the seasonal, local, and organic products are the stars of the menu.
In the sweet station, "the desserts on each menu are very different and they change every day," explains Lewis. We share  the recipe of their Rhubarb Galette below. The particularity of this piece is the dough, which "we make every day at the restaurant. We use it for tarts, both savory and sweet, of every shape and size. Jacques Pepin taught us how to make it-he calls it his Crunch Tart dough. The technique used to cut the butter into the flour is the key to good results with this recipe. "
Rhubarb Galette
For dough
Start by adding just a third the butter; Combine the flour, sugar and salt in a large mixing bowl. Cut the butter with a pastry blender mixing until the sough resembles coarse cornmeal.( Butter disperse throughout the flour in tiny pieces makes the dough tender.) cut the remaining butter just until the biggest pieces of butter are the size of large peas.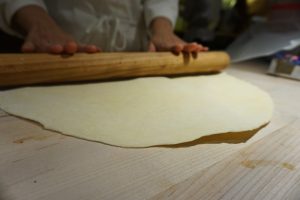 Dribble 7 tablespoons (210ml) of ice cold water into the flour mixture in several stages, tossing and mixing between your fingers mix until it starts to pull together.
Divide the dough in half, firmly press each half in to a ball, and wrap tightly in plastic wrap, pressing down to flatten each ball into a disk. refrigerate for at least 30 minutes before rolling out.On a lightly floured surface, roll out the disk to the desire size, brush off excess flour from both sides with a dry pastry brush. Transfer the dough to a parchment-lined baking sheet and refrigerate for 30 minutes.
Makes about 600 gr. of dough, enough for 2 open galettes or tarts or 1 cover tart.
256 g unbleached all- purpose flour
5 g granulated sugar
2 g salt
440 g unsalted butter, chilled and cut in small pieces.
105 ml ice cold water

---

For each galette

600 g ounces of rhubarb
½ to ¾ cups sugar
Frangipane on bottom egg yolks
½ T to 1 T moon dust on frangipane
¼ of an orange, zest and juice

Toss a small amount of sugar with the rhubarb and build tart. Don't let the rhubarb sit with the sugar on for any amount of time, it will begin to juice immediately. Make sure the red sides of the rhubarb is facing up.
After about 20 minutes in the oven, taste and sprinkle the remaining sugar on the fruit, pressing down on any dark pieces so that they are under the juice. If necessary, move the rhubarb around a bit to fill in any gaps.

---

Chez Panisse ice cream

1 ½ c half & half
1 c sugar
9 yolks
3 c cream

Heat half & half, sugar plus any other flavorings as instructed below. Whisk yolks in a separate bowl. When you've reached the desired taste, temper yolks into hot half & half. Stirring constantly, cook the mixture until custard starts to form on the bottom. Immediately strain into cream to stop cooking. Taste base and adjust. Cool completely before freezing.

Variations

The basics recipes with substitutions  add ingredients before freezing:

Crème Fraîche: Substitute crème fraîche for cream, stir in just before freezing.
Mascarpone: Substitute mascarpone for cream, stir in just before freezing.
Vanilla: Steep 3 beans, split and scraped, into half & half and sugar. Allow to steep, until flavor comes through.