The kalamansi is one of the highlights at Le Chocolat, one of Frederic Moreau's desserts, executive pastry chef of the Peninsula Hotel Beijing.
The kalamansi is a small exotic fruit native to Southeast Asia, widely used in Filipino cuisine, which adds a citrusy and original touch to dishes. In this creation made up of two pieces, it acquires a special relevance as a flavor enhancer, both in the shape of a gelee with dark chocolate and in the form of a cream filling the Basque cake. This dish is another of the creations that French chef Frederic Moreau shared with Santiago Corral during his recent visit.
Le Chocolat
gelée dark chocolate kalamansi 
12 ppl
15 g kalamansi puree
162 g milk
23 g sugar
1 g pectin NH
38 g dark chocolate 70%
Mix sugar, pectin NH and milk together, let it set for 15 min. Bring it to a boil. Bring to a boil kalamansi puree and combine everything with melted chocolate. Burr mix, place in piping bag, place in cooler.
---
mousse dark chocolate
12 ppl
120 g egg whites
tt g cream of tartar
100 g glucose
170 g milk
150 g dark chocolate 70%
Warm up to 40ºC whites with glucose, cream of tartar, whip to soft peak. Mix warm milk and melted chocolate together, burr mix at 35-40ºC. Fold chocolate in soft peak meringue. Pour in plate at 40-45 g each. Keep in fridge.
---
ice cream chocolate
625 g milk
60 g trimoline
75 g cream
33 g milk powder
80 g sugar
20 g glucose powder
10 g ice cream stabilizer
100 g dark chocolate 70%
Bring milk, trimoline, cream, milk powder, sugar, glucose and stab to 50ºC. Add chocolate and bring to 85ºC. Burr mix and let it rest overnight. Next day burr mix and spin.
---
caramelized hazelnuts
25 g water
87 g sugar
1 g sea salt
250 g hazelnuts
12 g cocoa butter
Toast hazelnuts at 150ºC until golden brown. Cook to 120ºC water, sugar. Add toasted nuts, mix until sandy. Add cocoa butter and sea salt. Cool down. Keep in airtight container.
---
tuile milk chocolate
215 g fondant
143 g glucose
143 g milk chocolate 40%
Cook fondant and glucose to 150ºC. Add melted chocolate, pour over silpat. Once cool down process in robot coupe and ground spice it to obtain a thin powder sift over silpat, with a round cutter imprint the powder. Place pieces of hazelnut in the middle of these circles. Bake at 180ºC until lightly melted. When cool remove with a small spatula. Place in a airtight container.
---
cream kalamansi
12 ppl
127 g kalamansi juice
80 g sugar
150 g eggs
4 g gelatin
20 g water for gelatin
2 g vanilla bean
114 g butter
Bring to a boil juice, sugar and bean temper eggs. Add butter, process at robot coupe, strain. Place in pipping bag. Keep in cooler.
---
dough gateau basque
12 ppl
165 g butter
140 g brown sugar
80 g almond powder
66 g eggs
200 g AP flour
2,5 g baking powder
5 g orange extract
5 g rum
Cream sugar and butter, add almond powder, add eggs, orange and rum. Add flour and baking powder, sheet out to 4 mm thick. Foncage in a 7 cm ring mould, pipe a center of kalamansi cream, cover with dough to close. Bake at 150ºC for 45 minutes. Once baked, brush the sides with egg whites and roll into sugar. Bake in oven at 150ºC for 2 minutes.
---
foam hazelnut for 1 ISI bottle
450 g milk
30 g sugar
1 g xantham gum
5 g gelatin
25 g water for gelatin
50 g hazelnut paste 100%
Bring to a boil milk, burr mix over gelatin, water, xantham and hazelnut paste. Cool down, place in large ISI bottle.
---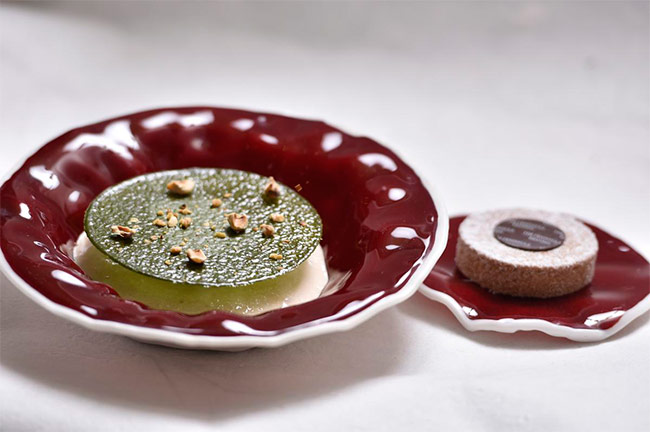 ---
Assembly
Pipe chocolate kalamansi gelée in middle of the dark chocolate mousse, cover with hazelnut foam, add pieces of caramelized hazelnuts, cover with hazelnut croustillant, fill gateau basque with kalamansi cream, cover with sugar.