What defines The Peninsula Hotel Beijing is synonymous to elegance, glamour, and style. Located in one of the most exciting cities, this hotel company offers stunning facilities and world class service, a unique combination of tradition, heritage, and glamour. Visiting Beijing, I had the chance to experience what this hotel had to offer and also got to interview the Executive Pastry Chef, the French chef Frederic Moreau, who showed us his unique style. This talented chef has been working for the Peninsula in Beijing for a couple of years now. Let's see what it is like to work for one of the best hotels in the world.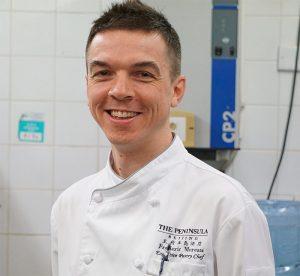 Chef Frederic, tell us about your pastry background
I started back in 1992 working for a local bakery. I grew up in the south of Paris, and my background was in retail shops before I moved to the U.S.
I moved to the U.S. to learn how to speak English, I worked in Paris for Chef Nicola Bussa, who connected me with Chef Frederic Montti, I worked for him for two years at the Ritz Carlton in Naples, Florida.
I moved to Laguna Beach, California to work for the St. Regis with Chef Stephan Crion where I had the opportunity to move to Tokyo for a year. Chef Stephan was consulting for the opening of a new pastry shop and I was hired to make the production of cakes and pastries.
When my time was up in Tokyo, I went back to the U.S. to work for the Park Hyatt. I also worked for Edward Notter School in Orlando, Florida. I was in charge of the development of the Pastry Programs, but the project didn't last long. So, I ended up moving back to California to work for the St. Regis for a couple years, before I decided that my life needed a new challenge and that is when I decided to move to Beijing.
How long have you been a Pastry Chef for the Peninsula Hotel?
I began working for the The Peninsula in October 2015. I knew the brand beforehand because of chefs I knew, like the Executive pastry chef of the Peninsula Chicago, Demitri Fayad, and Stephany Boldswell the pastry chef of the Peninsula in Beverly Hills. This is the first time working as a pastry chef for The Peninsula Hotel.
What were the main challenges for you? When you moved to China was it different from when you worked in Tokyo?
The main challenge is the language, now when I look at it, I can see how in Japan and China. They are complete opposites; the mindset is very different.
"Here in China they are very helpful. If they work alone they might get lost, but if they follow a leader they work great"
Is it easy to find good people to work as pastry cooks?
It's not hard, I worked in many countries and every country has good and bad pastry cooks. Here in China they are very helpful. If they work alone they might get lost, but if they follow a leader they work great. Japan is very different. They might like you, but you never feel that you are part of the group, they are very distance.
Tell us about your typical day at The Peninsula?
Morning 8:00am, check breakfast, make sure everything tastes good, check on the quality, get ready for lunch! Everything is homemade, I have a very good bakery team. Check with the business to see what is happening the next few days, help the team wherever production is needed. I show my team how to be responsible, without cutting corners, because they think if the chef is not watching they cut them and that is not good. Then afterwards I go help set up for tea and dinner.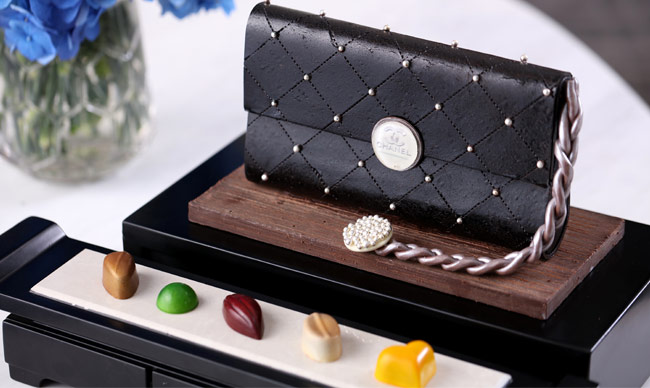 How do you intermingle your pastry techniques with the local culture?
I have a French background when it comes to techniques. Also, everywhere I've worked I learned many techniques, it is also the beauty of traveling. Of course, in France you learn a lot, but you also learn a lot from different cultures by traveling. The internet has made it easy to see videos and there is always something new to create.
"I have a French background when it comes to techniques. Also, everywhere I've worked I learned many techniques, it is also the beauty of traveling"
Do you have freedom in your creations? Or since this is a Hotel Company you have to follow certain recipe guidelines?
We are very independent! We have worked a couple of times with other Peninsula Hotels making desserts they have that we don't, but that only happens for special occasions. We have made two desserts from other Peninsula Hotels since I started working here.
Where do you get your inspiration when it comes to creating a new dessert?
I like to go out a lot, I always order many desserts everywhere I go, it doesn't matter if it's fancy or not. I love to see other chefs' ideas and come up with my own conclusions and desertion in what to create. In China they love chocolate and they eat fruit like crazy, they don't care about calories.
Tell us about the Opening of the New Pastry Boutique?
We are working on creating the Pastry Boutique, the largest pastry boutique from all the Peninsula Hotels. The way I see the perfect shop is it being based on what our customers like, for example chocolates of course, and some petite gateaux. In Beijing at the local bakeries, they love shortbread, viennoiseries, and travel cakes, people here buy, they eat, and they go!
They like baked items more than petite gateaux, they want different flavors, they love spongy textures. I once had a tasting for some clients, I served them a matcha cream roulade and they loved it.
Enjoy the recipes of some of his latest plated desserts.