"In China, people eat fruit like crazy," said Frederic Moreau, French executive pastry chef at The Peninsula Hotel Beijing, to our correspondent Santiago Corral at the meeting they held a few weeks ago. And fruit, specifically strawberry and raspberry, is the main element of one of his desserts, La Fraise, ideal for eating in hot weather and seducing with its color and refreshing character.
Raspberry and strawberry are fruit with a sweet and slightly acid flavor that have many antioxidant properties. In this piece they are presented in different forms (gelee, juice, sorbet) and with a clear link to French pastry culture in its very name, La Fraise. In his final presentation, Frederic Moreau accompanies it with coconut chantilly.
La Fraise
sponge pain de gene 
1 frame 40 x 60 cm
583 g almond paste 60%
365 g eggs
75 g clarified butter
75 g reg oil
98 g AP flour
6 g baking powder
With paddle mix paste with warmed eggs. Once soft enough switch with whisk, whip until fluffy. Fold fats and sifted flour-baking powder. Scale 1200 g in 40 x 60 cm frame. Bake at 150ºC for 25 minutes. Cut out circles of 7 cm.
---
gelée strawberry
12 ppl
160 g puree
30 g sugar
2,5 g algin
0,6 g xanthan
160 g puree
Warm up to 50ºC puree, sugar, algin and xanthan. Robot coupe add second puree. When cold robot coupe again, place in piping bag, freeze.
---
chantilly coconut
12 ppl
260 g cream
13 g glucose
120 g white chocolate 32%
130 g coconut puree
Bring cream, glucose to a boil, add chocolate. Add puree, burr mix. Keep in cooler.
---
croustillant red
225 g fondant
150 g glucose
150 g white chocolate 32%
3 g red color
Cook fondant and glucose to 150ºC. Add melted chocolate, pour over paper. Once cool down robot coupe and ground spice it to obtain a thin powder sift over silpat with a round cutter imprint the powder. Bake at 180ºC until lightly melted when cool remove with a small spatula. Place in a airtight container.
---
juice raspberry
Place in a bowl 1000 g frozen raspberries, cover with plastic film, place bowl over boiling water for 2 hours, until juice is out. Do not mix, strain berries in cheese cloth overnight in fridge, next day place juice in squizze bottle for soaking sponge and also to make raspberry gelee.
---
gelée raspberry
12 ppl
300 g raspberry juice
50 g sugar
4 g agar
10 g gelatin
50 g water for gelatin
Bring juice, sugar, agar to a boil, add gelatinm pour on acetate sheet as thin as possible. Cut out circles of 6 cm. Keep in fridge.
---
sorbet strawberry
80 g water
80 g sugar
65 g glucose powder
7 g sorbet stabilizer
60 g dextrose
800 g strawberry puree ponthier
Boil water, sugar, glucose and stab cool down to 20ºC, add puree. Burr mix. Next day burr mix and spin
---
strawberries
With 2 cm thick plexiglass trim strawberries so they are at the same level.
---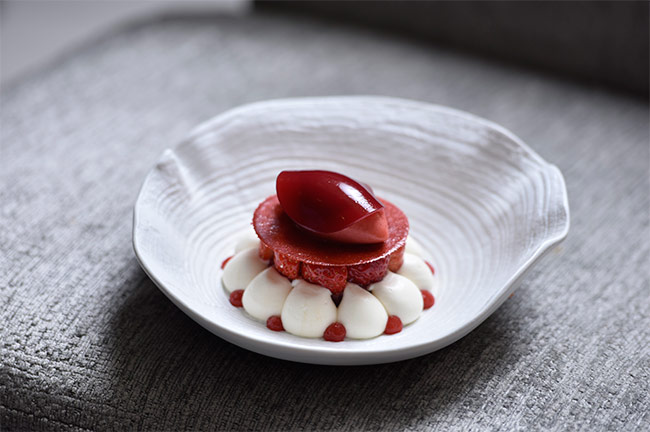 ---
Assembly
Brush raspberry juice over pain de gene, place in middle of the plate, with large round tip pipe coconut chantilly around the edge of the sponge, pipe strawberry gelÉe between chantilly and in the middle of sponge. Add strawberries in a circle, pipe coconut chantilly in the middle. Place red croustillant, quenelle of sorbet, add disc of raspberry gelée.