60 DAYS chocolate is the first product from Puratos Grand – Place Indochina (PGPI) and the Puratos Group to obtain Carbon Neutral Certification, granted by CO2logic, a South Pole company that is a pioneer in environmental advice.
Gricha Safarian, Managing Director at Puratos Grand-Place Indochina (PGPI), assures that "achieving this certification is a part of our sustainability commitments. Our purpose is not profit to profit, but profit for a higher purpose, which means we want to empower consumers and our customers to make better, more informed, more sustainable choices".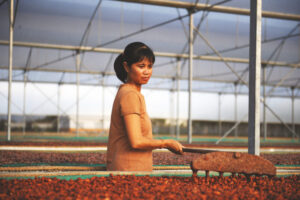 In its preparation, fermentation in acacia wood boxes is combined with slow roasting methods to achieve a 'tree to bar' chocolate in 60 days. This process generates fewer emissions thanks to its close-to-source production and short transition time. From a flavor and quality perspective, customers benefit from a fresher, tastier product with lower sugar content. 60 DAYS is available for purchase in Japan, Korea, Taiwan, France, and Belgium, and will soon be available in Italy.
To grant this certification, CO2logic evaluated the greenhouse gas emissions of all activities related to 60 DAYS: purchase of ingredients (cocoa and others), transport of ingredients to the factory, energy consumption during manufacturing, packaging, and transport to the final recipient
In 2021, PGPI became the first entity of the Group at a global level to achieve the Carbon Neutral Certificate in commercial operations. Not only that, Puratos turned its Belcolade brand facilities into the first zero-carbon chocolate factory. These measures are essential for the company to meet its commitment to achieve carbon neutrality by 2025.