The chocolate color revolution: combining expertise and sense of simplicity. Barry Callebaut's IBC brand launches Power Flowers™, the ultimate food coloring system for personalization.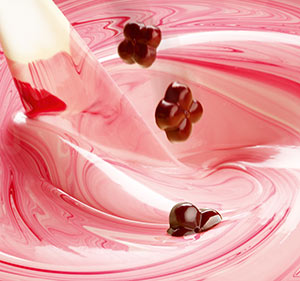 Barry Callebaut launches Power Flowers™ as the most user friendly and qualitative way to color chocolate, fillings and compound chocolate.
With the launch of Power Flowers™ Barry Callebaut enables its customers to colorfully personalize their products according to their unique wishes.
Colorfully personalized creations
By simply using the Color Master chart as a guide, every color of the rainbow can be applied to any fat based product of choice. Thanks to the Power Flowers™ any color can easily be added, ranging from deep red to light green and from blue unto purple. Within seconds any fat based product can be colored in any desired shade by simply combining the 4 different Power Flowers™ (RED, YELLOW, BLUE and WHITE).
Saving time and waste while coloring consistently
Moreover, this coloring can start immediately since no warming up of the food dyes like before is necessary. The Power Flowers™ are easier to use than liquid and powder colorants: simply add individual Power Flowers™ to a chocolate or fat based product to reach the desired color or tone in only a matter of seconds.
Because of their power (40% pigment), only a few Power Flowers™ are enough to color 400 g of chocolate. Thanks to the simple and clean dosing (cut off pieces of different colored Power Flowers™) and the Color Master as a guide, the same color result will be achieved, every time again, guaranteed.
For more information visit www.ibcbelgium.com