The École Nationale Supérieure de Pâtisserie (ENSP), located in Yssingeaux, in the French department of Haute-Loire, is going to expand due to the exponential demand for training in the pastry arts that has accelerated in recent years. Specifically, the center will have three new classrooms and four laboratories, as well as 36 apartments for students. Completion of construction is scheduled for September 2023.

Created in 1984 and picked up in 2007 by Alain Ducasse and Yves Thuriès, ENSP is part of the École Ducasse network of schools and brings 1,500 students of 60 nationalities together throughout the year.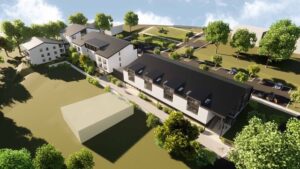 This expansion of more than 2,000 m2 will allow École Ducasse to welcome a greater number of French and international students, while responding to the growing demand for professional training. For this reason, its general director Elise Masurel is enthusiastic about this new development within the network. "Following the opening of our campus in 2020 in Paris, this project allows us to further embed the excellence of our schools on French soil, coupled with international development," she says.