The pandemic has changed the way consumers perceive fresh products, especially bakery and pastry products, which is why they are increasingly looking for more artisanal, healthy, and sustainable options that adapt to their lifestyle and health needs. It is one of the conclusions drawn from Taste Tomorrow 2021, a study carried out worldwide by Puratos on trends in the consumption of bakery, pastry, and chocolate which is based on surveys of more than 18,000 consumers in 44 countries and in-depth interviews.

The report reveals that users are no longer looking only for healthy products, but have gone a step further and want to hyper-personalize their diet. Globally, 65% believe that food should be tailored to each person and 61% would like cakes and fine pastries to be tailored to their own nutritional needs.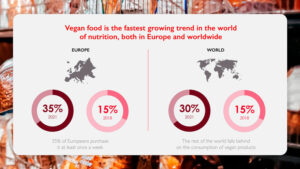 Among the major trends that will mark the immediate future of the food sector, and in particular the bread and pastry sector, the Puratos study highlights the acquisition of vegan products. 35% of Europeans already buy these products at least once a week, compared to 15% in 2018. In the rest of the world, the percentage of consumers is slightly lower, at 30%.

Regarding taste, 53% of Europeans believe that food that looks good is tastier. Likewise, 79% like traditional flavors and 60% want to try new flavors or unusual combinations.

The artisan, according to the study, increasingly serves as a differentiating factor to attract the consumer and this is reflected in an increase in home baking. In Europe, 48% make cakes and 26% make bread at least once a month. These numbers represent an increase compared to before the pandemic, with percentages of 40% in the case of cakes and 18% in bread. Globally, this trend is similar: 41% make cakes and 25% make bread at home.

Regarding the purchasing channels, in the case of bread, at a global level it is acquired mainly in pastry shops (33%) or prepackaged from supermarket shelves (33%), and in the case of cakes, the first option is pre-packaged from supermarket shelves (24%) and as a second alternative, the pastry shop (23%). The pandemic has also caused concern for hygiene, which increases the purchase of packaged products, although these will only succeed if they improve freshness, quality, and craftsmanship.