Icam has inaugurated the high-level training center, Choco Cube – Culture, Expertise, and Creativity. A space for exchange, located at its headquarters in Orsenigo (Como), where the historic Italian company will share its experience and knowledge with all pastry chefs, chocolatiers, ice cream manufacturers, and other professionals in the sector to support their development through the exchange of knowledge, at the same time that chocolate culture is reinforced to define trends.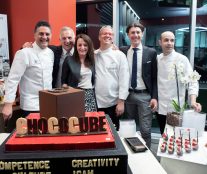 In this new classroom, the Icam technicians, together with pastry chefs and internationally recognized ice cream makers, will give theoretical and practical workshops on various subjects. The educational coordinator will be Salvatore Toma, technical consultant of the company since 2016, who will work in collaboration with Gaetano Mignano, ICAM technical consultant and member of the Ice Cream World Cup committee, and Marco Nessi, ICAM collaborator. In addition to the sessions conducted by internal technicians, during this first year some master classes are already scheduled to be taught by great chefs such as Ernst Knam and Mario Di Costanzo, who will talk about the future of pastry. One of the first scheduled events is a masterclass and a workshop organized by Gianluca Aresu, specialized in the production of artistic chocolate on hollow bodies, on March 19 and 20 on the occasion of Easter.
During the presentation, Icam had an exceptional guest, Ernst Knam, who made black square cake, made with Breton cocoa sablé, creamy Single Origin 78% Uganda Dark Chocolate by Agostoni, and cocoa marquise soaked in cherry sauce. A cake completely covered with a glossy red icing with the lettering CHOCO CUBE in the center, made with Grand Cru Pachiza Milk Chocolate 39% by Agostoni and Organic White Chocolate 38% by Agostoni, and on the top the CHOCO CUBE, symbol of the new project, with the sign Culture, Expertise, and Creativity placed on the front, made with Edelweiss White Chocolate by ICAM Linea Professionale and decorated with 24K gold leaf.