With the same founding principles and vision he has had for other projects, the chef Alain Ducasse opened La Glace Alain Ducasse (38 rue de la Roquette) in Paris on June 19. After his experience with other products under the manufacturing concept (Manufacture de Chocolat and Manufacture de Café), he enters the world of ice cream making and he does so in the company of Matteo Casone, from Bologna, with whom he makes fresh ice creams before the customer using high quality ingredients. Following his obsession to always offer something better and different, Ducasse presents a menu of ice creams, granitas, and sorbets where there is a wide variety of proposals, from the classics (chocolate, coffee, vanilla, pistachio) to original creations which will aspire to become house specialties, such as fresh herb sorbet and olive oil ice cream.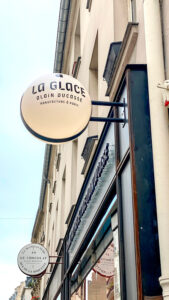 Ducasse surprises even with the classic ice creams with which the clientele should be more familiar. In ice creams such as pistachio, for example, there will be a pairing or coupage in which the best final result will be sought through varieties such as the Sicily from Italy and Kermans from Iran, in which he will work with the dried fruit with skin and skinless to find the perfect balance and nuances of chlorophyll and tannins. Vanilla also presents a studied association in which three types of this spice are combined, that of Mexico, which provides its spicy touch, from Tahiti, which contributes with its sweetness, and that of Pompana from Madagascar. In this new Ducasse shop, the purpose of artisan products is once again the same, to provide a true journey through direct flavors, sometimes surprising, always attractive.

In order to maximize flavor, Matteo Casone and Alain Ducasse introduce well-crafted toppings for ice cream, using techniques borrowed from pastry and cuisine. Fruit which is gently candied and sometimes even pickled, reduced to juice or sauce, infusions, or baked. Toppings that will help give each of the references personality.