Baileys has collaborated with Pinterest and the experimental cuisine studio Kitchen Theory to identify the trends in sweet whims for adults which will take over 2020, both at home and in the industry. Novel ideas that are grouped in the study "Baileys Treat Report", curated by pastry lovers, professionals and different specialists based mainly in the United Kingdom and Ireland. Among the chefs consulted are Anna Higham, Edd Kimber, the Kallinis sisters of Washington DC, Helen Clark, Lily Vanilli, Paul A Young and the Irish ice cream shop, Three Twenty.

The report highlights the "Butterfly Pea" flower bubble tea as the star product of the year,
a flower of an intense blue tone that will give a lot to talk about,due to its color changing properties and its delicious flavor. But this is not the only trend. Here are the 10 sweet predictions of this study: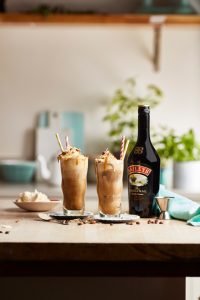 Sweet and savory. With a growing awareness of umami, savory ingredients, such as bacon, beet,s and spices, will gain much more prominence in all sweets and desserts.
Perfectly imperfect. Pinterest reveals the #bakingfails ( failed desserts) as a fashion that rises like foam, valuing the imperfect and giving rise to more and more ingenious forms.
Don't leave me now. Consumers are banishing the idea that desserts are exclusively for the table and are beginning to see it as a small pleasure to consume at any time.
"Cake pops". This hybrid between cake and lollipop is on its way to rise as one of the superstars.
Blue is the new green. 2020 is the year of blue tea, due to the popularity of the Butterfly Pea flower variety and its leaves, used as an ingredient.
A taste of nostalgia. Classics like apple pie reinvent themselves. Thus comes a new wave of retro-inspired food.
The new classics of the future. The recent trend that combines flavors such as sea salt and caramel will bring many more pairings between new and unique ingredients. Pay attention to Himalayan salt, ube (purple sweet potato), black truffle, and bacon with maple syrup.
A less common dessert. The most interactive sweet treats will bring to life the tables of houses and restaurants. Why settle for a simple hot chocolate when it can be drunk with a flower-shaped cloud?
"Free of" is the norm. Hyper-awareness about what is consumed and how it affects the body and the environment will increase the demand for a growing variety of "-free" products.
Only for adults. More adult flavors that add complexity to desserts, such as alcohol, are wanted.