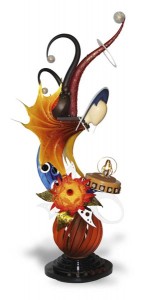 Once again it was a great festivity for pastry and art. There is a magical conjunction that is produced in this type of contests, where spectacular presence and sensitivity are enhanced in this artisan trade. The 22nd edition of the US Pastry Competition, the pastry competition annually organized by Paris Gourmet in New York, focuses on choosing the Pastry Chef of the Year. And the victory went to a pastry chef who has been pursuing his dream since he was 18 years old: to reach the peak of his profession. Marco Cossio currently works at the MGM Grand in Las Vegas. There he had to combine his daily work with the preparation for the competition. He finally saw his efforts rewarded and showed his satisfaction and pride in forming part of this trade.
Cossio, who defeated the other 14 candidates from different parts of the American geography, knew with great skill how to interpret the theme of the competition: Le Cirque du Soleil, which was seen in the artistic piece, full of color, magic and spectacle.
As a journalist present at the last three editions of the US Pastry, I have gladly witnessed how this contest, after 22 editions, is still as alive as ever. This has to do with the participation of the organizer, Paris Gourmet, the collaboration of the magnificent panel of judges whose members were some of the winners of previous years, the work done by the volunteers, students and professors of the New York City College of Technology and the endorsement of the Société Culinaire Philanthropique. A grand family that makes sure to maintain the illusion and offer a new opportunity for pastry chefs, young and the not so young, to be able to demonstrate their skills and their artistic sensibility. This great event will return next year for which there is already a theme, the four elements: Earth, Wind, Water and Fire.
Marco Cossio achieved the victory of the 2011 edition of the US Pastry Competition. Enjoy the main artistic works of the contestants.