The annual US Pastry Competition 2017 was very recently held and the organization is already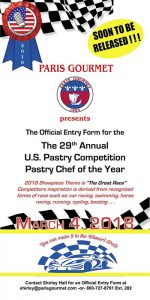 preparing the 29th edition, which will take place on March 4, 2018 and will be entitled "The Great Race", which is why the competition's inspiration is derived from recognized forms of race such as car racing, swimming, horse racing, running, cycling, boating, among others.
The historic competition changed its rules this year, gaining more participation, a new look and a decided commitment to chocolate. A renewal that will continue to get good results in the next edition.