Awarding the professional talent, dignifying the plated dessert within gastronomy and praising high quality chocolate – these are the pillars on which the C3 Competition (Consecration Cercle des Chefs) stands, created and organized by the chocolate firm Valrhona.
Having finished the classification contests corresponding to Spain, Italy, France, pending the Asian preliminary competition, the names of the candidates who will take part in the big final have been made public. This third edition will be held at the Madrid Fusión Congress between 24th and 26th January 2012. The finalists are: Benjamin Kunert, from the Traube Tonbach Hotel in Germany, classified for the region 'Northern Europe and Middle East'; Iris Lau, from the Four Seasons Hotel George V restaurant in Paris, who will represent France; Gaël Moutet, from the Arts Hôtel restaurant in Barcelona, representing Spain; Alessandro Ferrotti, from La Ragnatela en Scaltenigo in Milan, winner of the Italian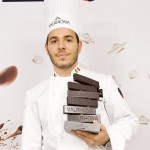 qualifying contest; Sally Camacho, from the WP24 Restaurant at the Ritz Carlton in Los Angeles, winner of the American preliminary competition. The Asian finalist will be decided in the competition to be held in Singapore next 17th September.
This third edition of the competition will be presided by Rasmus Kofoed, co-owner and chef at the restaurant Géranium in Copenhagen, and latest winner of Bocuse d'Or. This year's winner will be awarded with an attractive €5,000check. We will closely follow the course of this competition, which has already gained the position of international reference in the field of restaurant desserts.