On April 6, at the Lycée Hôtelier Bonneveine in Marseille, Julien Leveneur and Elsa Molton were proclaimed winners of the 48th edition of the Championnat de France du Dessert, organized by Cultures Sucre.
Using the theme "self-expression" as a starting point, a theme chosen by the president of the jury Angelo Musa, the candidates were inspired by childhood memories, their homelands, travel, and more to share significant moments in their lives.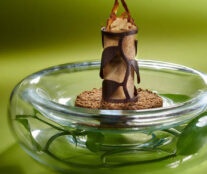 Julien Leveneur, from Iloha Seaview Hotel (La Réunion), convinced the jury in the professional category with the creation, My Roots. As he himself explains, "this dessert implies memories that make me who I am. The vanilla bean is the common thread. It goes through my memories of climbing on a trunk. Like the vanilla pod, I draw my strength from my roots, and with delicacy and patience I seek to reach the highest point offering the most beautiful creations. The heart of palm is the symbol of an essential moment in my life: the weekly family meal. Smoked ice cream to evoke the smell of the undergrowth during my mountain runs. Tamarind jelly for my iconic memory of tamarind candy at the end of my school day. And, finally, the molasses and the cooked syrup to recall the smells that cradled me in my childhood".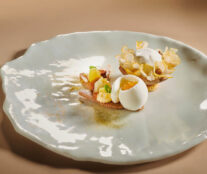 Elsa Molton, from CFA Médéric, Paris, ranked first in the junior category with her dessert, Mon Bouddh'agrume. "During my trip to Sri Lanka, I discovered the Buddha's hand, a lucky fruit that embodies hope and respect for the divine. Seeing the population offer this citrus during a procession moved me very much so I decided to work this original fruit into candied petals. My challenge was to counteract the bitterness and acridness of its flavor by using almonds and olives. To refresh the dessert, I chose cottage cheese and buttermilk, which bring a tart and lactic note", she explains. "I find it difficult to refer to Sri Lanka without thinking of the tropical tree of life, Moringa Oleifera. It is known to purify the body, and I have used it in infusions and gels."