The pastry shop which Naoki Fujiwara took over from his father is located in the Nara prefecture near Kyoto. Nara had been an ancient capital of Japan for about 80 years since 710 AD before Kyoto became the capital in 794 AD. Kyoto, as you may know, is a historical legacy-rich city and so is Nara, however Nara always stays calm and serene, with not as many visitors as in Kyoto. 40 years ago, Yoji Fujiwara opened Emera as a western-style pastry shop which sells confectioneries come from the West and evolved in a unique Japanese way. In 2012, Yoji's aged property was renovated and transformed in to a French style patisserie. 'For the last 13 years, when I came back from Belgium and took over the shop from my father, I've never reproduced his confections,' he insisted. 'I thought I had to get rid of what he had built in order to build my own world. I owed a debt for renovating our shop totally, but it made me more determined.'
Text by Reiko Matsuno • Photos by Noriko Carlow
He worked with his father in the daytime while studying at a pastry school at night. After graduating from the school, he worked for Mr. Masahiko Hayashi, the first Japanese pastry chef who won the Coupe du Monde de la Patisserie. He always longed for working abroad with people in other cultures and finally the dream came true when he was 25. Three years at Le Saint Aulaye in Brussels taught him a lot. 'In the first year, not much job was given to me because of lack of communication in French, but M. Gerard, the owner at the time didn't abandon me and encouraged me and I had a very good chef friend who happened to be from the same town in Nara. Yasushi Sasaki became an owner of a pastry shop in Brussels now,' he said. 'When the second apprenticeship year began, as my French improved, I became to enjoy working among French co-workers (most of them were French since the owner was French) and I noticed my strength. I found that I had an aptitude in chocolate making. Diligence and elaborateness, which are often said typical Japanese characteristics. Even though you don't have special skills, to complete every process and step carefully enables you to make very delicate things, I believe. I want my millefeuille to be identical with sharp edges on every side.'
What Fujiwara intends to express in his works might be miyabi (urbane refinement in Japanese). They might not have a distinctive or dramatic impact at the first bite, but it taste and flavor slowly and steadily spread out like Washoku
There is a word, 'miyabi' in Japanese. A word to express aesthetic idea has been used since Kyoto was a capital. It means urbane refinement, grace or delicacy. What Fujiwara intends to express in his works might be miyabi. His works are not showy, but they have stylistic beauty. They might not have a distinctive or dramatic impact at the first bite, but its taste and flavor slowly and steadily spread out like Washoku.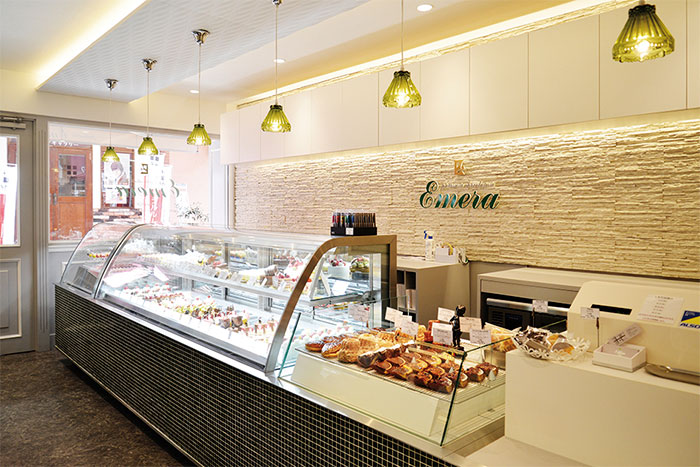 He is always inspired by a sense of season and ingredients, but Nara-ness is also one of the most important elements when he creates something. For so good.. magazine, he created a plated dessert called Aoniyoshi with which he aims to convey an atmosphere of Japan and Nara. 'The idea came from a flower from the Nara prefecture, yae sakura (double-flower cherry blossoms). It's a combination of griotte, sakura liqueur flavored with leaf of cherry blossom and tonka bean. For us, the scent of tonka bean is similar to that of cherry blossom. The dessert is finished with Yoshino Kudzu sauce. Yoshino of Nara is famous for producing kudzu powder as well as cherry blossom trees. Spring in Japan is a theme for the dessert.' Aoniyoshi is a poetic epithet for Nara. When court people in the ancient capital of Nara composed pomes, they used Aoniyoshi to decorate the word Nara.
There's a saying which says that the second generation of a company or a store would never be able to thrive their family-run business. Although Fujiwara took on his father's teaching and passion, he dared to take a risk to scrap what his father had built, which led him to succeed. In a narrow street lined with old shops of Nara, Emera is shining.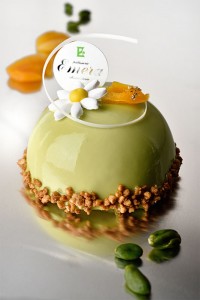 Rummiku
'Rummiku' as he shyly said, is one reflecting his feminine perspective. 'I like beautiful things, for example, women's outfits. I sometimes think like women do, and the idea of this cake came from a kind of my feminity. Rummiku is named after my daughter, Kurumi.' It consists of pistachio, apricot and almond milk. When the first tried almond milk in Belgium, he pushed it away. 'I couldn't get udes to the distinctive flavor for a while, but the flavor captured me without realizing'.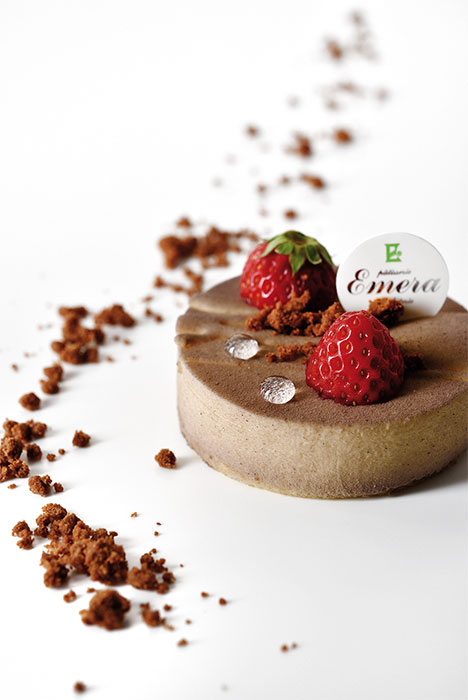 Sons de Printemps
'Sons de Printemps (sound of spring) is made with olive oil from the Shodo island in the Seto island sea. 'It has a fresh, grass-like and unique flavor, but I didn't want the unique flavor to stand out. Pressing people to understand my taste is not my style. When I use love-it-or-hate-it ingredients like spices. I always pay careful attention to the amount I would add. I try to design a cake to be light enough to make people want more'.
You will find these two recipes in so good #16