11 renowned New York pastry shops will offer hot chocolates created exclusively for the Valrhona Hot Chocolate Festival, which takes place from January 21 to February 5.
An event which is clearly charitable, since it will allocate $ 0.50 from each cup sold to the Valrhona's Clean Water Project.
We will be sharing the original chocolates to be served at Sugar and Plumm, Mah-Ze-Dahr Bakery, The Maison du Chocolat, Epicerie Boulud, and Almondine.
1. Sugar and Plumm. Best of Both Worlds. Pastry chef Thierry Atian.
This hot chocolate targets especially children. It is made of Valrhona Jivara 40%, Extra Bitter 61%, vanilla whipped cream, marshmallows, and a hint of cinnamon. One can have different marshmallows flavors: vanilla, chocolate, caramel and strawberry. This is why it is called Best of Both Worlds: because there are marshmallows and whipped cream. // www.sugarandplumm.com
280 g of milk
1 vanilla pod
6 g of cocoa powder
60 g of Valrhona Extra Bitter 61%
30 g of Valrhona Jivara 40%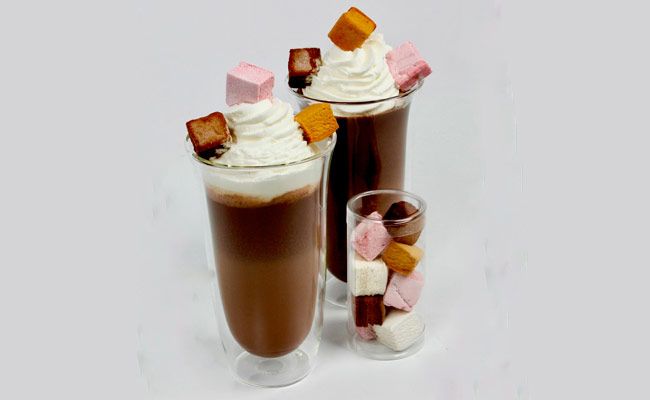 2. Mah Ze Dahr. Pastry chef Shelly Acuna.
Dark chocolate infused with orange zest and winter spices, topped with a torched Hazelnut marshmallow. // www.mahzedahrbakery.com
270 g water
230 g light corn syrup
2 T Valrhona cocoa powder
1/4 t Kosher salt
2 ea cinnamon Stick
1/4 t ground nutmeg
6 ea Whole cloves
1 of orange zeast
680 g Valrhona Guanaja 70 %
200 g whole milk
In a small saucepot, combine the water, light corn syrup, cocoa powder, salt, zest and spices.
Whisk the ingredients together over low-medium heat until it begins to boil.
Turn off the heat, and steep the mixture for 30 minutes.
Return the mixture to medium heat, just until it begins to simmer.
Strain the mixture over the chocolate and stir until the mixture is emulsified.
Combine 90 g of the chocolate ganache with 200 g steamed whole milk.
Top the hot chocolate with a toasted hazelnut marshmallow.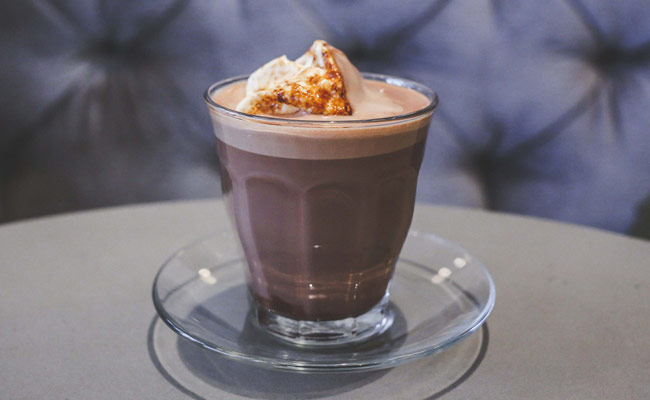 3. Ladurée. Pastry chef Jimmy Leclerc.
// www.laduree.com/fr
1 liter milk
100 g sugar
50 g Valrhona cocoa paste
250 g Valrhona Jivara chocolate
2 units vanilla beans
5 g extract vanilla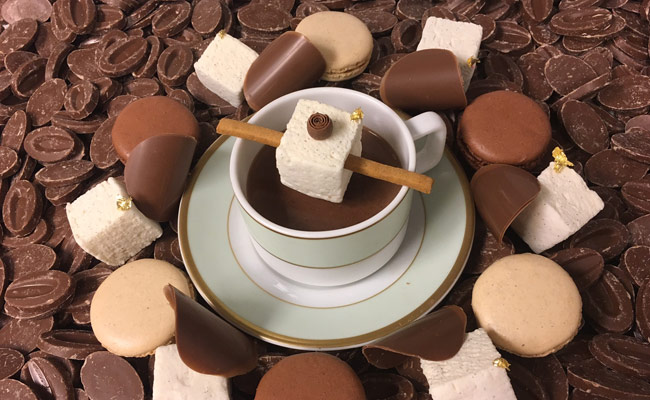 4. Épicerie Boulud. Ginger Delight. Pastry chef Jayce Baudry.
Valrhona Abinao chocolate
Valrhona cocoa paste
Valrhona cocoa powder
milk
heavy cream
sugar
gingerbread spices
5. Almondine Bakery. The Classic. Pastry chef Herve Poussot.
Serve with complementary Madeleine with a Mendiant.// www.almondinebakery.com
440 g milk
10 g sugar
60 g Valrhona dark chocolate
100 g heavy cream