Cofounder of Terra i Taula, a group of producers and chefs, Jordi Guillem's agenda of activities takes him beyond his cuisine towards projects linked with restoration, science, and innovation. He is a greatly talented sweet and experimental vocation chef, something that can be found in the dessert menu of his restaurant, Lo Mam, in Segur de Calafell (Tarragona). In the Alícia Foundation, the chef comes into contact with a laboratory machine, the centrifuge, which separates oil components in different states (solid, liquid, fat) without thermal processes. With this in his kitchen, he has been able to work with products in different components and textures, obtaining very clean and pure flavors. This innovative technique has become the leitmotif of desserts like Centrifuged Strawberry, and seasonal savory proposals, such as the Verema dish.
In this article he also presents some fun false macaroni carbonara, which really are trompe l'oeil which is made from coconut milk. To control the process of curdling, Guillem combines three ingredients that give elasticity, thickness and stability to the 'pasta': gellan gum, carob gum, and vegetable gelatin.
Centrifuged Strawberry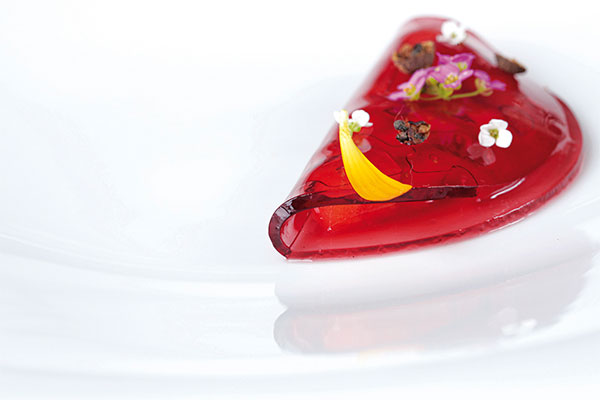 You will find Centrifuged Strawberry's recipe at so good #16
When Jordi Guillem was a collaborator of the Fundació Alícia, he discovered through Pere Castells, at that time head of the Department of Gastronomic and Scientific Research, the applications of a laboratory machine, the centrifuge, in the world of oil. Castells used it to analyze the flavor of different oils by decanting them. He obtained water, oil, and oil paste with this process. This technique, which is also used by the oil industry, had barely been used in cuisine. Thinking that he could develop interesting techniques with the centrifuge, Jordi Guillem acquired a second-hand machine. With it he began separating fruit in different states, solid and liquid.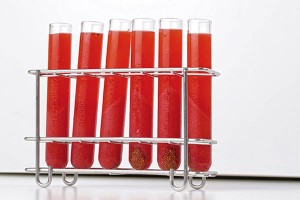 By working with a strawberry, for example, he extracted an 'extraordinary' puree, with a flavor that he 'had not tried before', he says. He also obtained highly pure water. The work achieved with the machine soon translated into interesting desserts. The water was used to make a jelly and a coulis with the puree. The Centrifuged Strawberry dessert became the first dish created with this technique, which had hardly been tested in other restaurants (with the exception of El Bulli).
Tests with the centrifuge also showed that the more solid a product is, the more speed is needed to separate its components. Most products have to be 'processed' between 1,300 and 3,000 G (the unit of measure of the force of gravity of the machine), depending on their properties. With this technique he discovered a new form of minimally invasive work, which did not alter the properties of the product, but on the contrary, went to its essence. The only thing to avoid is to not exceed 3,000 G of power, because this way, a process where heat intervenes begins.
You will also find Macaroni Carbonara's recipe in so good #16