At the Landmark Mandarin Oriental, an exclusive five-star hotel in the heart of Hong Kong's business and fashion districts, we find the two-Michelin-starred restaurant called Amber, named No.24 on The World's Best Restaurant list 2017 and Number 7 Best Restaurant in China. Under the strict supervision of Culinary Director Richard Ekkebus, it offers an outstanding interpretation of the French cuisine menu. Blending cutting-edge style with inventive lighting, the restaurant's dramatic design provides the perfect setting for Amber's award-winning cuisine. I had the joy of having the 11th course tasting menu and trying some pastry creations by Michael Pretet, a young and talented pastry chef who attributes his success to hard work, perseverance, and learning from some of the best chefs like Marike Van Beurden, for which he only has words of gratitude: "she is one of my most admired mentors, her pastry technics and professionalism go beyond the imagination".
Pretet started his brilliant career at Relais & Chateaux Du Castellet au sud de la France working under Executive Chef Nicolas Sale (now Executive Chef at the Ritz Paris) and the tutelage of Marike Van Beurden where she worked as the Executive Pastry chef. Michael had the chance to learned, follow instructions and work hand to hand perfectionist his pastry arts craft. He took over the Pastry Chef position as pastry chef when Marike left Chateaux Du Castellet. He has continued with his training and moved to Cap D'Antibes Beach Hotel, another Relais & Chateaux halfway between Nice and Cannes where he worked as Pastry Chef. He continued working for Nicolas Sale for eight years throughout France, going to Le Kilamanjaro Hotel, and the opening of K2 hotel in Courschevel, France. In 2014 he decided to go to the Four seasons hotel in Geneva, under the supervision of Marike. When she moved to the Four Seasons Hotel Capris in Hong Kong, she invited Michael to come work for her in Asia.
As the current pastry chef of the Landmark Mandarin Oriental, he is in charge of a team of nine pastry cooks, restaurant plated desserts for Amber, the restaurant Mo Bar, room service, banquet, catering and bakery. I have talked with him about his sources of inspiration, the evolution of pastry in Hong Kong and his expectations for the future.
What is your opinion on the important role pastry will play in the future in Hong Kong?
There is a big pastry scene, Hong Kong love pastries, this is a city of emulsion of people from all over the world, a bustling city. In hotels, restaurants, people love Haute Patisserie!
I think the most important thing is the lightness of the dessert, using less sugar. In Asia, they really love fruit, they do not like heavy pastries. We don't use much butter, only in certain recipes like biscuits or in a crumble, really trying to be as light as possible. Asian customers do not consume much dairy. We use granitas, sorbets, fruit desserts, petite fours etc.
We have the liberty to create and appreciate both savory and sweet. There are three sweet courses in the 11th Course and a petite four tray at Amber. The three courses are:
Kabocha Pumpkin: Coconut Foam over a Menton lemon & nutmeg sorbet with caramelized pumpkin seeds & flour de sel.
Clementines: Segments, sorbet & reduction with an adzuki red bean cremeaux & table side ground time pepper corns.
Caramelized Milk Chocolate 'Caramelatte': Play of textures with coconut sorbet, praline dust, caramelized almonds, salted caramel, & Kalamansi.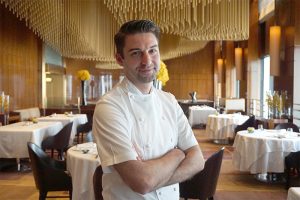 Where do you find your inspiration and what is the difference between your pastry and the rest of the chef's specialty?
I think we look at what clients want, it is all about the clients. Not all the clients are the same, though. Let's say if we have a classic menu or a modern menu, I think you have to know how to make a good mille feuiette and also something different like the Kabocha Pumpkin.
Tell me about the ingredients that you use
Almost all the produce is from other places, we live on an island, so we have to import many of our produce! We like to go to the local market as well as the international market, a lot of the fruit we get from Japan, and we import a lot from France. We like seasonality when it comes to creating a new dessert.
Produce is the base for a good dessert. In spring, for Amber we are using local ingredients like honey, Japanese tomatoes, Japanese amau strawberries, and mozzarella.
"In Asia, they really love fruit, they do not like heavy pastries. We don't use much butter, only in certain recipes like biscuits or in a crumble, really trying to be as light as possible"
How do you see your future as a pastry Chef?
If it's possible, I want to continue being part of a dynamic company, developing my skills working for the Mandarin Oriental Group. I'd like to work for them for a couple more years, it's a great company, you have a good budget to work with, you learn enrichment through education classes. There are many new openings, like in Madrid, Dubai, Bali … they give me the F&B management I need, they give me liberty to buy what I want to create, I can select the best ingredients, and quality adapts to the price.
Enjoy the

recipe for the Caramelatte