A few years ago, pastry chef Eunji Lee announced the opening of Lysée, a new dessert pastry boutique located in New York City's Flatiron District. Taking inspiration from the French word for "museum", which is "musee", chef Lee believes pastry is edible art in her new patisserie. Here we can see and taste her creations by mixing her style between the cultures and flavors of New York, Korea, and France.

I had the chance to visit her new flavor palace. I was amazed by the beautiful historic building that is home to Lysée, matching the neighborhood's old New York architectural vibe. The pastry shop was designed by chef Lee and the dessert gallery is two floors, welcoming guests upstairs to explore the pastry boutique with cakes and cookies on display, while downstairs is a delicate design dinning room where people can sit and enjoy Eunji's creations. It has an open space that you can look into the kitchen so you can see the beautiful pastry laboratory where the chef and her team create magical desserts.

Born and raised in Busan, Korea, Chef Eunji Lee dreamed of studying patisserie. She moved to France in 2006 to enroll at the Institute National de la Boulangerie Pâtisserie in Rouen and at the Ecole Ferrandi in Paris. She spent three years in the acclaimed restaurant Ze Kitchen Galerie of William Ledeuil and then trained under Alain Ducasse and Cédric Grolet at three Michelin-starred Le Meurice. When the opportunity arose for Eunji to combine her classic French training with Korean ingredients, she jumped at the chance to become the Pastry Chef of Jungsik. Furthermore, she became the first non-European contestant and finalist in Season 4 of the French competition "Qui sera le procain grand pâtissier". After four years of being the head pastry chef for Jungsik, a two-Michelin-star restaurant located in downtown New York City, she decided to open up her own pastry shop.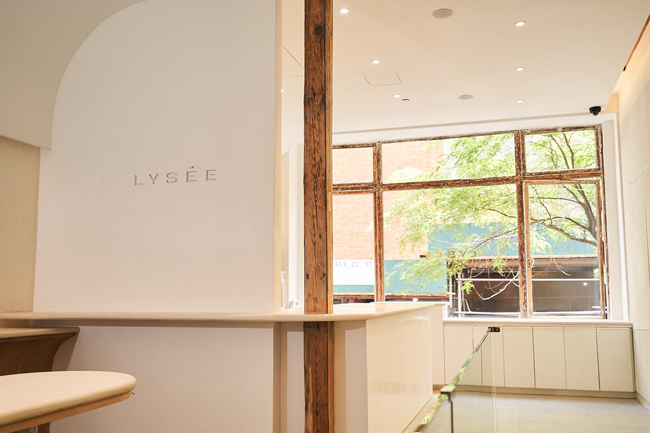 When did you decide it was time to open your own patisserie?
It was a dream to open my own pastry shop, MY own, it was my all-time dream. When I decided I wanted it, it had been more than five years. I was working at Jungsik and I wanted to challenge myself to open my own pastry shop. The project started a year ago, in March of last year.
What inspired you to design the concept of Lysée?
It is from all these ideas from many years that came together, and I wanted to have my personality from my home town in Korea, French style, and New York Style. I love arts and the reason why I became a pastry chef is because pastry is edible art. The pastry shop is divided in two, the first and second floor. It is like a pastry gallery, with a minimalist design, a clean white color to look like a gallery. At the same time, there are elements of Korean culture, wood material from Korea and a gravestone color. It is an architectural design inspired by Korean culture and a landmark encased in a historically old building with modern pearl traditional walls. Bringing cultures to match it to New York's modern but old interior building, it is a mixture of cultures just like New York City. We worked with a Labotory design firm located in Seoul. I wanted an open kitchen so clients can see how we work, and high ceilings.

'I love arts and the reason why I became a pastry chef is because pastry is edible art'
Why the name Lysée?
It came from my last name Lee and the French word Musée, so this is my Museum.
What kind of pastries can we find inside Lysée?
The first floor is a dining area and the second floor is a gallery as well as a pick-up service. All the menus are available for both areas, overall we have 25 items and six pastries on the main display table, signature "Lysée" desserts. We also have viennoiserie, gâteau de voyage, we make our own drinks, we have vegan options, and medium and large cakes. We serve tea and coffee drinks with signature creations such as brown rice milk, making a latte with rice milk.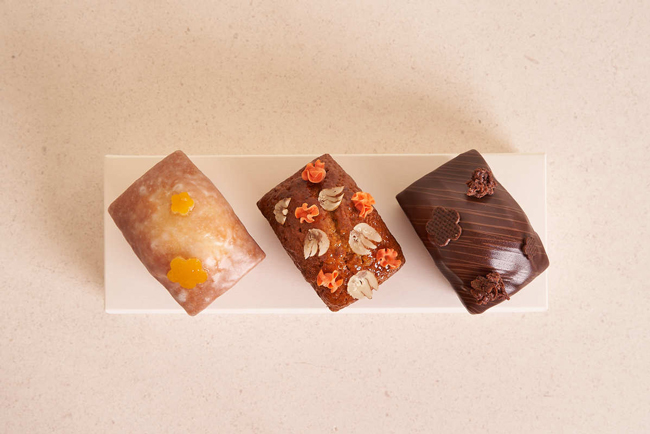 What are your expectations about Lysée?
The reason I put the dining room in is because I come from a restaurant background, I love plated desserts and I would love to bring more tasting desserts in the future with a liquor license so we can do pairing with the desserts.
'I would love to bring more tasting desserts in the future with a liquor license so we can do pairing with the desserts en Lysée'
What kind of influence can we taste in your creations?
I think my own identity is French-Korean New Yorker because it is what I am, I think I like to mix ingredients in my pastry, with local ingredients. Here in New York you can find great ingredients and I love some New York flavors, using my French techniques all confided together. We make our desserts and drinks working with seasonal fruits.
What is your favorite ingredient to work with and how do you incorporate it in your creations?
There are so many, brown rice and corn and I love different fruits and vegetables, spices and black pepper and herbs. Seasonality is very important for pastry.
'Seasonality is very important for pastry'
Do you miss the restaurant life?
I love service, the pressure, the team work in the kitchen. People think Lysée is not only a pastry shop but a dessert restaurant. It's not a complex service but my next plan is to create a tasting menu to serve more desserts.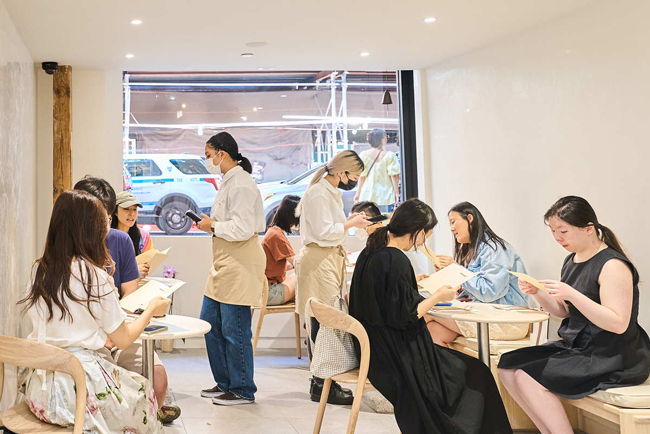 What do you think Lycée offers more than anyone else in New York?
When I created Lysée, I wished that it would bring a pastry experience that is not only about cake. I wanted to create an experience for our guests when they come. We want to welcome them into a concept created by me and the pastry experience.
'I love service, the pressure, the team work in the kitchen, people think Lysée is not only a pastry shop, but a dessert restaurant'
Can you please tell us about your new book, Plating Dessert, and give us a description of what it's about.
In July 2022 I published Plating Dessert, in which you can find some of my classic desserts, many of which were created in my time at the restaurant. Ten desserts with a story behind them including the photos and recipes, and a part about my life when I was young and my evolution as a restaurant pastry chef and how I opened the pastry shop.
A lot of people send me emails asking how I did it, so I thought sharing my story is what is the most important to me so more people can follow in my steps.