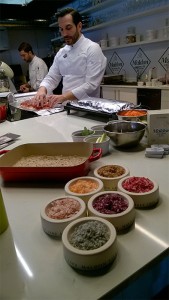 Salt can be used for much more than is thought, it can even be used in the world of desserts. Mario Sandoval, chef of the Spanish restaurant Coque (2 Michelin stars), has studied the possibilities offered by Maldon salt, creating a colorful and interesting range of flavored salts which he then applied to a full menu that finishes with a bang with the right mix of chocolate, mint and violet. As Mario Sandoval himself explains, "we season a chocolate dessert with Maldon salt, providing new nuances to the palate".
Different types of flavored salts
To demonstrate the versatility of this sea salt, Sandoval has worked with nearly a dozen references, including tomato salt, carrot salt, mint salt, polyphenol salt and smoked salt. These are very different organoleptically and also visually, delivering gustatory and visual nuances that are as surprising as they are interesting.
Below we show the most suitable ways for using these salts in pastry and how to make them.
Citrus salt


This salt is yellow. It is the result of grated lemon and orange zest which is then mixed with the salt, being careful not to break the crystals. With the humidity of the zest, the salt acquires its color. Before using it, it must be allowed to dry on a warming table at 40ºC for 12 hours. This salt is used in the process of salting sardines which are then paired with guacamole.

Raspberry salt


Its intense red color anticipates the power of its aroma. As with the tomato salt, slightly damp salt is added to the freeze-dried fruit, mixed well, and allowed to dry for 12 hours.

Violet salt


The intense white of Maldon salt remains, surprising the senses with its floral and fresh touch. To achieve this, Mario Sandoval sprays the salt with violet, then drying it on a warming table at 40ºC for 12 hours. In this case, the scent of this salt provides contrast and freshness to a chocolate dessert, made up of a Guanaja crémeux, a Manjari and violet core, and a dry cocoa cake.

Cinnamon salt


This tan-colored salt stands out for its strong aromatic taste. After crushing the cinnamon, it is mixed with the salt, letting it sit and dry.
Chocolate mousse with violet Maldon salt
violet Maldon salt
c.s. Maldon salt
c.s. violet water
Spray the salt with violet water and let dry on a warming table at 40ºC for 12 hours.
---
mint and chocolate crémeux
150 g krona cream
350 g mint puree
100 g egg yolk
50 g sugar
210 g Guanaja chocolate
10 g violet Maldon salt
25 g armagnac
Cook all the liquids with the sugar and Maldon salt at 85°C. Freshen the yolks with cold water and incorporate them to the above mixture, cooking until it solidifies. Strain over the chopped chocolate and emulsify. Place cling film directly onto it and let stand at 4ºC for 12 hours.
---
chocolate and violet ice cream core
675 g milk
65 g sugar
90 g inverted sugar
30 g cream
170 g Manjari chocolate
5 g glycerin
5 g stabilizer
12 g violet paste
Heat all ingredients to 70 ºC except the chocolate, which is added at 50º C. Let it stand for 24 hours and churn.
---
dry cocoa cake
165 g egg whites
137 g sugar
190 g praline
20 g flour
20 g cocoa powder
Beat the egg whites and add sugar halfway through. Once stiff, add sifted cocoa powder and praline. Spread on a tray and bake at 160 ° C for 20 minutes.
---
brightening coating
150 g cream
150 g water
150 g sugar
75 g milk
50 g cocoa
3 sheets of gelatin
Boil the liquids with the sugar. Add cocoa, then the previously hydrated and drained gelatin. Mix well.
---
Plating
On the cake, arrange the ice cream core and on top, the crémeux. Glaze and decorate with violet Maldon salt crystals.