Ducasse Développement and Sommet Education, a worldwide network of prestigious higher education schools specializing in hotel management, customer experience, and culinary and pastry arts, have created the new École Ducasse – Paris Campus, a place dedicated to teaching culinary and pastry arts. "With this opening of the Paris Campus, we are pursuing an essential mission that I believe is one of the most beautiful in the world: preparing the next generation and training leaders. This mission consists of transmitting excellence, respect for production and seasonality, as well as the ability to bounce back from difficult contexts, all driven by a strong focus on perpetual reinvention," says chef Alain Ducasse.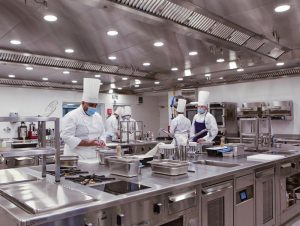 This ultra-contemporary 5,000 m2 campus dedicated to taste, located in Meudon-la-Forêt, 10 km from the heart of Paris, includes nine laboratories dedicated to the culinary, pastry, bakery, chocolate, and ice cream arts, seven classrooms for academic courses (finance, marketing, human resources, etc.), a sensory analysis room aimed at pairing food and wine and discovering new flavors, a knowledge center and several co-working areas, as well as a store with a take-away food sales area and a practice restaurant open to the public. The kitchens will benefit from the fruit trees that surround the school and the aromatic plants grown in the garden.
In its varied academic offerings, we find a three-year Bachelor of Culinary Arts and French Pastry Arts aimed at graduate students, and essential specialization programs that offer retraining opportunities for people who wish to change careers and become chefs.
Organized in small groups to ensure a more personalized approach, the programs are taught in French and English and last from two months to three years. They all combine academic and practical courses that range from running an institution to looking for trends or the exact touch needed to achieve excellence. The topics discussed address areas of the culinary and pastry arts and echo new trends.