Celebrated chefs Oriol Balaguer, Jordi Butrón, Jordi Roca, Paco Torreblanca, Ramon Morató and Dani García, as well as some Spanish food journalists were those responsible for naming the desserts of Victor Trochi (from Argentina and based in Spain), chef from Les Magnolies restaurant (Arbucies-Girona), as the winning of "The Best Restaurant Dessert 2011" award with his two desserts: Gin Tonic with notes of citrus and herbs; and Roasted banana with green peas, croissant infusion and iced Nespresso caffeine.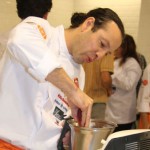 Also, Ana Lucía Jarquín Cáceres (from Guatemala), pastry chef of Abac restaurant (Barcelona), was the winner in the other award category "Best Nespresso Restaurant Dessert 2011", with the dessert: Belgium Ale, Chocolate textures with Nespresso coffee, liquorice, cocoa, black olives and toffee.
For more than five hours, the best master pastry chefs in Spain and abroad gathered in the
ESPAISUCRE school
in Barcelona, with the objective of making two desserts: a "freestyle dessert" and a "Nespresso dessert", in other words, that included amongst the ingredients were one of the blends in the Nespresso range. These eight finalists, from around the world, attended this gastronomic feast in which they not only had to compete amongst themselves, but also amaze and captivate a prestigious panel of professional experts in the world of gastronomy, many of whom specialize in restaurant desserts.
The competition, "The Best Restaurant Dessert ", intends to actively collaborate in the creation and dissemination of new standards and own language, with the aim of transforming restaurant pastry-making into a separate discipline. Likewise, it aims to promote the discipline of restaurant-style desserts from our country, a young and dynamic discipline, but which still requires a stable body of theory to enable its development.
The organizer, Espaisucre, is the brainchild of Jordi Butrón and his partners Xano Saguer, Guillem Vicente and Reme Butrón, founders and promoters of a new understanding of restaurant-style pastry-making. Nespresso, worldwide pioneer and market leader in premium coffee capsules, has sponsored the third celebration of this competition.