From the outside, nothing looked unusual about this quaint two-story building on a quiet street in Oak Park, Illinois. But on the inside, it was a different story. There, inside the former residence, which is home to the Chicago School of Mold Making, four of the city's top pastry chefs—Meg Galus, executive pastry chef of the NoMI/Park Hyatt Chicago; Jove T. Hubbard, executive pastry chef, David Burke's Primehouse; Sarah Kosikowski, executive pastry chef, Trump Chicago Hotel; and Greg Mosko, pastry chef, North Pond restaurant—competed in the first annual Chicago Restaurant Pastry Competition on October 16 spearheaded by pastry chef Jimmy MacMillan of JMPUREPASTRY. Equally impressive was the panel of pastry chef judges: Della Gossett (French Pastry School, Charlie Trotter's), Curtis Duffy (Alinea, Avenues) and Patrick Fahy (Sofitel Chicago, Blackbird).
The competition came about as a way to promote the pastry community in Chicago, says MacMillan. For the daylong event, participants, who were chosen via recipe submissions, went head-to-head in the two-part competition, which included a mystery box amuse and a plated dessert.
But the competition didn't end with the final dessert presentation. Award-winning video production company Bitter Jester Creative was on hand filming the entire process, from Saturday's load-in and rule meeting and Sunday's main event to the award presentation and reception on Monday.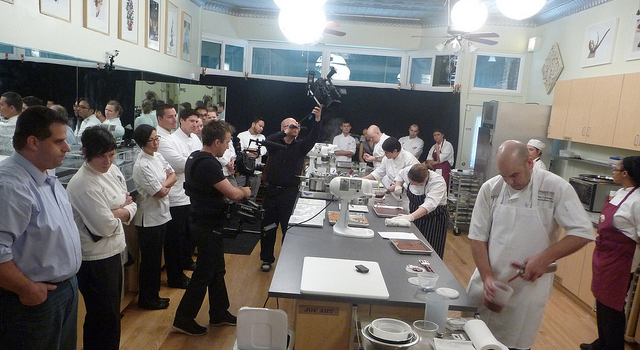 For MacMillan, the filming process was an important aspect of the event. "The movies are as much about the people who make up the Chicago pastry scene as they are about who won," he says. "You can tell in the interviews the chefs wanted to win, but also wanted their peers to do well. We have interviews from all sides that tell a deeper story about the chefs as people."
As for who did win, MacMillan's not telling—at least not yet. To keep the suspense—and interest—going, he'll be posting video teasers on Starchefs.com, Pasticceria Internazionale and JMPUREPASTRY web sites starting in early November and continuing until the end of the year, with the winner being revealed in the final episode. Says MacMillan, "We wanted to document real pastry chefs working like professionals."