The Singapore Dining scene is one of the best in Asia, the cosmopolitan vibe of the city invites you to explore and discover new dining options and visit well-established restaurants and bars. One local friend that I hadn't seen in years invited me to dinner, and because this was a special occasion, I suggested having dinner at Whitegrass.
It is situated in the historic building of CHIJMES, built in 1840 and turned from a private residence to a church, a building that kept expanding throughout the years. In 2011, it was transformed to open a unique lifestyle venue full of restaurants, retail stores, and amazing nightlife that integrates history with modern-day stories. In this environment, Whitegrass presents a contemporary take on fine dining with Modern Australian cuisine. The meal was a true reflection of culinary style and elegance combining carefully sourced native Australian ingredients, local Asian produce, and Japanese influences. The 70-seater restaurant consists of three adjoining dining rooms, as well as a 24-seater outdoor bar. The fine dining experience promises to be like no other in Singapore.

Whitegrass, an unstoppable trajectory
Although its history is recent, since January 2016, Whitegrass has garnered important prizes. For example, in 2017 it was awarded its first Michelin star and in 2018 it achieved the highest rating of three stars on the 20th edition of Singapore Top Restaurants Guide by Wine and Dine magazine and debuted at number 50 in Asia's Best Restaurants Awards, making it one of seven restaurants from Singapore in this prestigious list.

Aisbett's culinary influences: his mother, Gilmore and Wakuda
Dishes are inspired by its owner and Executive Chef, the Australian chef Sam Aisbett, who cites his mother as one of the greatest culinary influences of his life. At the age of 16, Sam left the family butcher business to pursue cooking as a profession and has not looked back since, working for two of Australia's leading chefs: Peter Gilmore and Tetsuya Wakuda.
Sam joined Peter Gilmore as Quay's Sous Chef- a position he held from 2005 to 2008. After traveling to Europe to stage at some of the best kitchens in the world, Sam returned to Sydney in 2010. He became the Senior Sous Chef at Tetsuya's where he continued his culinary journey and "learned the art of contemporary Japanese cuisine and respect for produce". He returned to Peter Gilmore's Quay in 2012 to become the restaurant's first ever Head Chef- a position that was specially created for him. In addition to working alongside the legendary Gilmore on dish development and managing a brigade of skilled chefs at Quay, Sam worked closely with neighboring farms to grow specialized produce exclusively for the restaurant. At Quay, his dishes not only showcased the inherent beauty and purity of the finest seasonal produces. In January 2016, he opened his first restaurant in Singapore, Whitegrass.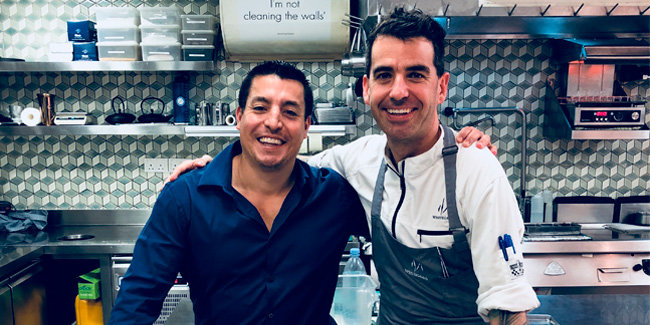 How long have you worked at the restaurant and what motivated you to move and open it in Singapore?
Whitegrass was first opened in Singapore. I decided to open it here because it is a melting pot of culture in Singapore, much like Sydney. This makes Singapore an amazing place to be more experimental.

 "Setting up a restaurant for the first time was definitely a challenge and a huge learning curve"

How would you describe your creations for White Grass? What inspires you to create?
I want my food to not be confined by trends or geographical boundaries and influences take the form of all cultures across the globe. While crafting the menu, I spent several months frequenting hawkers and local markets, to form a deeper understanding for the local palate and ingredients available. I also personally source for native Australian ingredients to incorporate into my menu as a form of tribute to my home country.
What do you like most about your job and what is the most challenging?
The highlight was definitely seeing Whitegrass come to life. We worked with the design firm Takenouchi Webb to combine contemporary elements that married the heritage of the building with my love for nature. I worked with local artists Lee Huiwen and Kenneth Lau. They created handmade ceramics that included vases that resemble baobabs, butter and salt dishes resembling mushrooms, as well as sugar dishes and petit four plates- a series of ceramics inspired by nature. My friend Rodrigo Hernandez was also responsible for the hand-drawn artwork on our menus and for the handwritten wooden spoons we used for some of our courses. It was incredible to see how our ideas materialized into a space we love working in every day.
Setting up a restaurant for the first time was definitely a challenge and a huge learning curve. We had to learn everything from scratch, build relationships with suppliers we were unfamiliar with, and consult on the fit out and construction of the restaurant. We learned from a lot of mistakes we made along the way.