To celebrate its 30th anniversary, Pacojet launches the Pacojet 4, a device that incorporates numerous new features, including the option to pacotize recipes with a high sugar and fat content in just 90 seconds, a large touch screen that offers intuitive user guidance with an animated assistance feature, and a smart device detection mode to protect against misuse. In addition, it is so quiet that it is ideal for preparing dishes in open kitchens.
It is an innovation in ease of use, configuration, and design. On the other hand, its cooking system does not vary. Fresh and deep-frozen foods are micro-pureed using overpressure without thawing so that fresh ingredients from the market can be used to make an infinite variety of dishes, from sorbets and ice creams, to mousses, soups, concentrates, doughs, batters, drinks, butter mixes, sauces, and much more.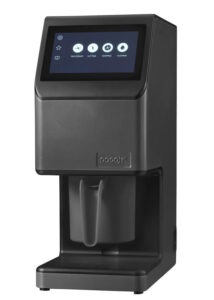 On the occasion of its 30 years, the company also presents a new brand identity, relaunching their website and online shop. The logo maintains the colors red and black but is more modern, in keeping with the pacotization process and the innovative spirit of Pacojet. The new motto, "pacotizing® excellence since 1992", puts on the center stage the many years of experience and the high quality standard of the company. The website (https://pacojet.com/), completely redesigned, offers relevant information about Pacojet, as well as recipes and videos. And customers from Germany, Austria, and Switzerland can now order all products from the online shop and request distributor demos.