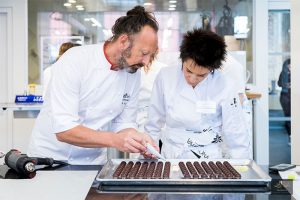 From May 22 to 24, Derek Poirier, named one of the 2014 Top 10 Pastry Chefs in America, gave a Chocolate Bonbons level 1 course at L'École Valrhona Brooklyn, designed for professionals who want to learn the basics and technological know-how of chocolate and its transformations.
Derek Poirier has represented the USA and Canada in world pastry competitions, including in 2003 and 2005, as a member of Team USA at the Coupe du Monde de la Pâtisserie in Lyon, France. He has also acted as advisor to the teams that were presented in the 2009 and 2011 teams. During the course, he taught techniques to develop perfect textures, as well as tempering and coating to achieve a custom piece collection.
The students created ganaches and pralines with different textures, designed chocolate bonbons with great variety of forms and flavors, and enrobed manually and with a machine. Among all the creations, we highlight this elegant grapefruit ganache, with an original sphere format and a refreshing taste in mouth, which values its two main ingredients, Opalys white chocolate and grapefruit.